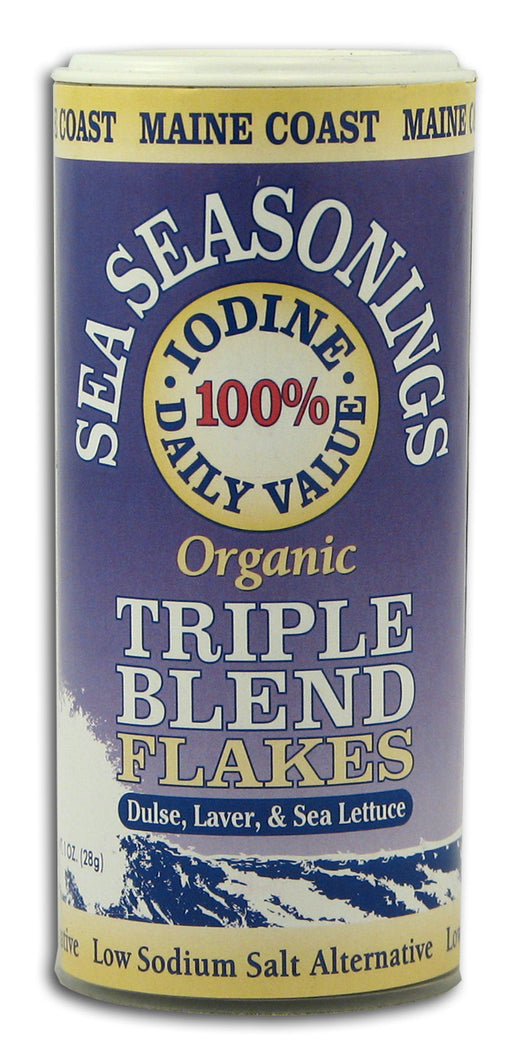 Triple Blend Flakes, Organic
---
Limited Items Selling Fast
poup with stuff in it
close
---
Triple Blend Flakes, Organic
Sea Seasonings, Organic Triple Blend Flakes (Dulse, Laver, & Sea Lettuce). Low Sodium Salt Alternative. 100% Daily Value of Iodine.
"Iodine is found in each of the trillions of cells in the body. Iodine is not only necessary for the production of thyroid hormone, it is also responsible for the production of all the other hormones in the body. Adequate iodine levels are also necessary for proper immune system function," says Dr. David Brownstein, MD, Medical Director, Center for Holistic Medicine, W. Bloomfield, MI.
In his book, "Iodine, Why You Need It," Dr. Brownstein asserts that iodine in iodized salt is not fully bioavailable (only 10% in one study) and that iodine in sea salt is minimal (<1 mcg/g). Plus increasing environmental bromine, chlorine and fluorine compete for iodine receptor sites in cells.
Seaweeds provide both the iodine and the "salty" taste without much sodium. Sprinkle on the nutritional benefits of sea vegetables and skip the table salt.
INGREDIENTS: Organic Dulse, Organic Laver, Organic Sea Lettuce.
Nutrition Facts
Serving Size: 1 tsp. (1.6 grams)
Servings per Container: 18
Nutrient Amount %DV
Calories 10
Total Fat 0 g 0%
Sodium 31 mg 1%
Potassium 90 mg 3%
Total Carbohydrates 0 g 0%
Protein 0 g
Vitamin A 0%
Vitamin C 0%
Magnesium 2%
Calcium 0%
Iodine 100%
Iron 19%
To open easily, push firmly on the tamper proof plastic insert with the tip of a spoon.
Real time shoppers on site
stock running low.