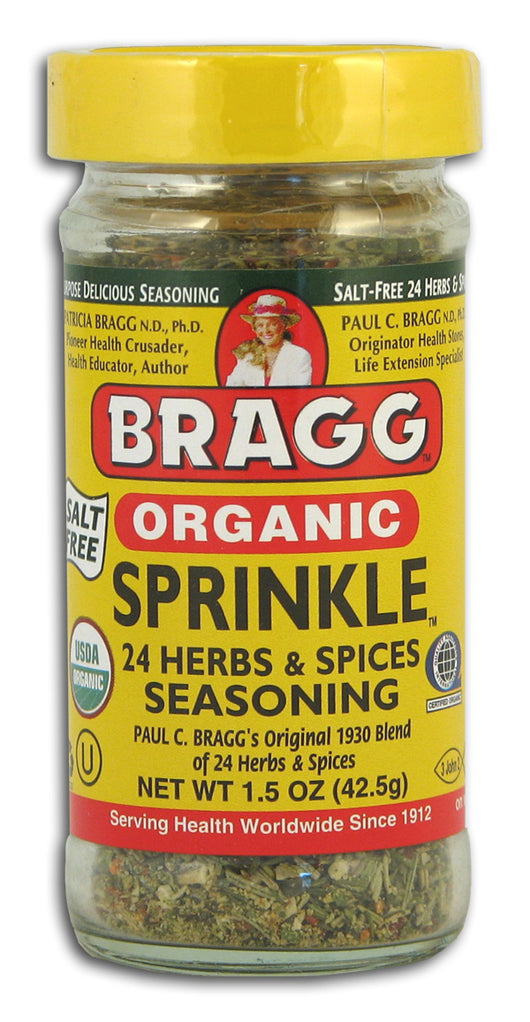 Sprinkle, Herbs & Spices Seasoning
Regular price $57.75 Sale
---
Limited Items Selling Fast
poup with stuff in it
close
---
Sprinkle, Herbs & Spices Seasoning
Bragg Sprinkle All Natural Herb & Spice Seasoning. Salt Free. All purpose delicious seasoning.
Since 1930 Paul C. Bragg's Original Blend of Healthy Herbs & Spices for Your New Taste Delights!
INGREDIENTS: Rosemary, Thyme, Pepper, Sweet Basil, Celery seed, Dill Seed, Oregano, Savory, Sage, Ginger, Coriander, Bay, Onion, Garlic, Orange Peel, Red Bell Pepper, Carrot, Kelp, Tomato, Parsley, Citric Acid, Lemon Oil, Sunflower Oil and Granulated Bragg Aminos.
Nutrition Facts
Serving Size: ¼ tsp. (0.5g)
Servings per Container: 132
Nutrient Amount %DV
Calories 0
Calories from Fat 0
Total Fat 0 g 0%
Trans Fat 0 g 0%
Cholesterol 0 mg 0%
Sodium 0 mg 0%
Total Carbohydrates 0 g 0%
Fiber 0 g 0%
Sugars 0 g 0%
Protein 0 g
Sprinkle is an original blend of all natural herbs and spices. Contains no additives, preservatives or fillers. This is the original formula by Paul C. Bragg, America's Health Pioneer. A delicious healthy seasoning for every meal, specially suited for healthy low sodium diets. Sprinkle enhances and adds flavor to most all recipes, meals and snacks.
Use in salads and dressings, soups, veggies, poultry, tempeh, casseroles, meats fish, tofu, jerky, gravies & sauces, wok & stir-frys, potatoes, marinades, rice & beans, popcorn, most foods.
Kosher KSA
Real time shoppers on site
stock running low.