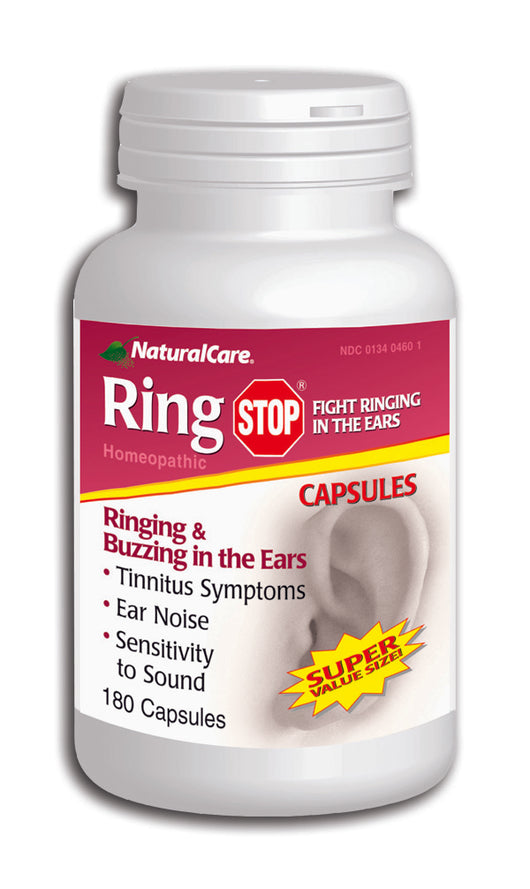 Ring Stop Value Size
Regular price $79.99 Sale
---
Limited Items Selling Fast
poup with stuff in it
close
---
Ring Stop Value Size
RingStop. Fight Ringing in the Ears. Homeopathic. Capsules. Ringing & Buzzing in the Ears. Tinnitus Symptoms. Ear Noise. Sensitivity to Sound. Super Value Size.
RingStop helps reduce the annoyance and frustration that comes with tinnitus. RingStop contains a base of all-natural ingredients. Contains no synthetic drugs, artificial chemicals, or additives.
Indications: For the symptomatic relief of recurring minor tinnitus symptoms including ringing and/or buzzing in the ears, and sensitivity to noise after diagnosis by a doctor.
ACTIVE INGREDIENTS: Calcarea Carbonica (Calcium Carbonate) 8x, 30x; Carbo Vegetabilis 8x, 12x, 30x; Chininum Sulphuricum 12x, 30x; Cimicifuga Racemose 3x, 6x, 12x, 30x; Cinchona Officinalis 3x, 6x, 30x; Coffea Cruda 3x, 12x; Graphites 8x, 12x, 30x; Kali Carbonicum 12x, 30x; Lycopodium 6x, 12x, 30x; Natrum Salicylicum 6x, Salicylicum Acidum 6x.
OTHER INGREDIENTS: Alpha Lipoic Acid, Black Sesame Seed (Hel Zhi Ma), Butcher's Broom Leaf Extract, Chuan Xiong Root (Ligusticum), Cinnamon (Gul Zhi), CoQ10, Folic Acid, Garlic Bulb (Odor-Controlled), Gelatin, Ginger Root, Ginkgo Biloba Leaf Extract, Glycerin, Job's Tears Seeds (Yi Yi Ren), Kelp Extract, Kudzu Root (Ge Gen), L-Arginine HCl, Licorice Root Extract, Magnesium Amino Acid Chelate, Methyl Cobalamin, N-Acetyl Carnitine HCl, N-Acetyl Cysteine, Peony Root (Chi Shao), Titanium Dioside (Natural Mineral Capsule Color), Vinpocetine, Vit A Acetate, Vit B-1 (Thiamine HCl), Vit B-2 (Riboflavin), Vit B-3 (Inositol Hexcaniacinate), Vit B-6 (Pyridoxine HCl), Vit B-12 (Cynaocobalamin), Zinc Amino Acid Chelate.
Directions: Start with two capsules twice daily for the first 30-90 days. Thereafter, reduce the dosage to one capsule twice daily. For the best results use daily for 3 to 6 months, and in conjunction with RingStop Ear Drops.
Warnings: If you are presently taking agents for blood-thinning, such as Coumadin or Warfarin, or if you are pregnant or nursing, seek the advice of a health professional before using this product. If symptoms continue to persist after a reasonable period of time, or if symptoms get worse, consult your doctor. Keep out of the reach of children.
Double Safety Sealed for your protection and product freshness. Do not use if seals are missing or tampered with.
Made in USA.
Real time shoppers on site
stock running low.