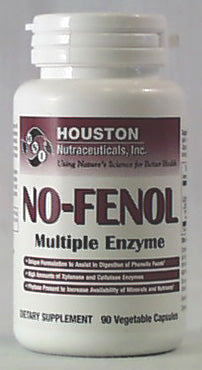 No-Fenol Multiple Enzyme
Regular price $27.99 Sale
---
Limited Items Selling Fast
poup with stuff in it
close
---
No-Fenol Multiple Enzyme
No-Fenol Multiple Enzyme. Unique formulation to assist in digestion of phenolic foods. High amounts of xylanase and cellulase enzymes. Phytase present to increase availability of minerals and nutrients.
Devin Houston, Ph.D., acknowledged inventor and founder of Houston Nutraceuticals, Inc, has 20 years of research experience in enzymes, receptor mechanisms, and nutritional biochemistry. HNI provides effective, safe and affordable digestive enzymes that will help your body function better... delivering direct from the scientist to the consumer.
No-Fenol is a unique formulation found to help those sensitive to phenols and salicylates. Digestion of fruits and vegetables may also be enhanced as No-Fenol contains enzymes that break down the components of plant fibers allowing nutrients to be better absorbed.
Supplement Facts
Serving Size: 1 capsule
Nutrient Amount
Zyphenase* enzyme blend 288 mg
*Zyphenase is a trademark of Houston Nutraceuticals Inc.
Xylanase 32,000 XU
CereCalase* (1,500 MU) 75 mg
Hemicellulase, beta-glucanase, phytase
*CereCalase is a trademark of National Enzyme Co.
OTHER INGREDIENTS: Cellulose, Water.
Suggested Dosage: Take one (1) capsule prior to average sized meals. More capsules may be taken as desired. Capsules can be opened and contents mixed with food or beverage, using care not to inhale enzyme powder.
Contains no added sugar, starch, dairy, soy, wheat, yeast, gluten, artificial flavors, preservatives, or animal derivatives. HNI uses only the highest quality GRAS approved plant-based enzymes available.
Do not use if tamper-proof seal is broken. Keep container closed and store at room temperature. Do not refrigerate.
Real time shoppers on site
stock running low.