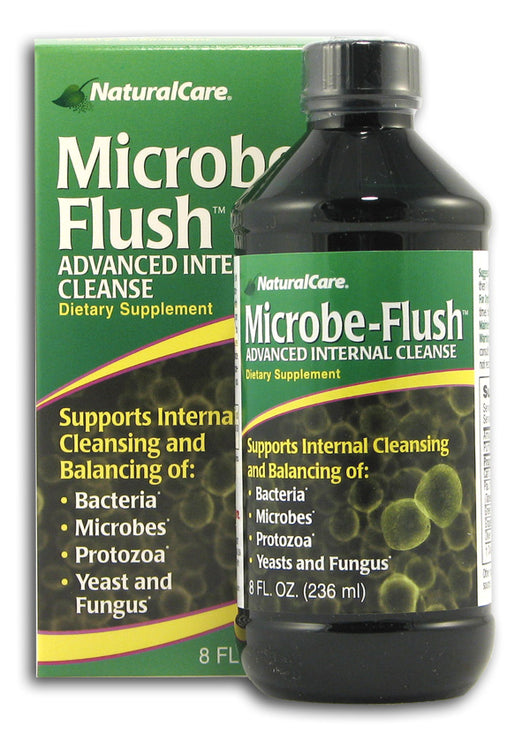 Microbe Flush
Regular price $31.99 Sale
---
Limited Items Selling Fast
poup with stuff in it
close
---
Microbe Flush
NaturalCare Microbe-Flush Advanced Internal Cleanse, Dietary Supplement. Supports Internal Cleansing and Balancing of: Bacteria, Microbes, Protozoa, Yeast and Fungus. No Laxative Side Effect!
Microbes and Your Health. Microbes are everywhere in your body, and may impact your health and well-being. Some of the microbes in your body are beneficial, and facilitate digestion, circulation, and the proper absorption on nutrients. Other microbes, often those introduced into the body from the outside via air, water and food, just to name a few, are potentially harmful pathogens and do not benefit the body. These pathogens can cause an imbalance in your body that suppresses the useful naturally-occurring microbial inhabitants such as bacteria. Certain natural and botanical substances can work with the body to keep the natural equilibrium of bacteria and beneficial flora at a level that insures optimal health.
Microbe-Flush contains a patented nano-engineered silver solution in a proprietary base of botanical extracts designed to work with your body to create an ideal microbial stability for optimal good health. The formula is designed to increase your body's resistance to harmful microbes that might create a disparity in the delicate balance between pathogens and "friendly" bacteria. Microbe-Flush contributes to host-resistance, helping you maintain good health.
For optimal health, keep pathogens under control and in harmony with your body's healthful microorganisms by doing a microbe flush twice a year.
Natural Botanical Agents. Nature has provided us with a number of substances that work naturally to help balance the microbial load in the body. Of the many plant products available, NaturalCare's proprietary Microbe-Flush formula contains:
- Cat's Claw (also called Una de Gato) is the powerful Peruvian herb that has been the subject of hundreds of studies, and has a tradition as a medicinal herb that dates back for centuries. Its efficacy has generated a huge interest in its clinical applications.
-Pau d'Arco (also called Taheebo) is from the inner bark of the Tabebuia impetiginosa tree. Found in the Amazon Rain Forest, extensive research on Pau d'Arco has been ongoing since the 1960's, when it first came to the attention of medical researches in the U.S.
- Grapefruit Seed Extract is widely recognized as a potent free radical scavenger and is an important factor in many immune boosting products.
- Olive Leaf Extract is a powerful, antioxidant herb with a history of safe, effective applications for immune challenges. The medicinal application of olive leaf dates back to biblical times.
- Green Tea Extract is rich in phenolics compounds that benefit the body in a number of areas. The antioxidant properties of Green Tea are responsible for scavenging of free radicals.
Supplement Facts
Serving Size: 1 teaspoon
Servings Per Container: 47
Nutrient Amount %DV
Purified Silver 12.5 mcg *
Proprietary Blend 165 mg
Cat's Claw bark extract (Uncaria tomentosa) *
Pau d'Arco inner bark extract (Tabebuia impetiginosa) *
Green Tea extract (Camellia sinensis) *
Grapefruit Seed extract (Citrus paradisi) *
Olive Leaf extract (Olea europa) *
* Daily Value not established.
OTHER INGREDIENTS: Purified Water, Glycerin (Vegetable Source), Zylitol (Natural Sweetener), Natural Lemon Flavor.
Suggested Use: 1 teaspoon twice daily for 16 days, then 1 teaspoon once a day for 14 days.
For Optimal Results: Repeat the above cycle three times for a total of 90 days.
Maintenance: Twice annually use for 30 days only.
Warnings: For children 12 years and younger, please consult a licensed healthcare provider. This product is not recommended for pregnant of lactating women.
Real time shoppers on site
stock running low.