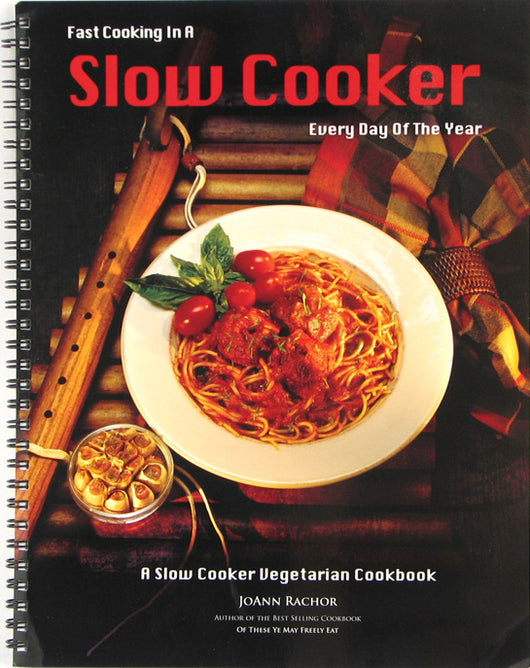 Fast Cooking in a Slow Cooker
Regular price $13.50 Sale
---
Limited Items Selling Fast
poup with stuff in it
close
---
Fast Cooking in a Slow Cooker
Fast Cooking In A Slow Cooker Every Day of the Year. A Slow Cooker Vegetarian Cookbook. By JoAnn Rachor, Author of the best selling cookbook Of These Ye May Freely Eat.
"I am excited to recommend JoAnn's cookbook. It is the first of its kind! In it you will find a wide variety of delicious recipes you would never have though possible to do in a slow cooker. This book is not just for vegetarians, but for anyone looking for straightforward, easy to prepare recipes that will simplify the preparation of healthy, home cooked meals. I heartily endorse this book." Agatha M. Thrash, M.D.
Over 300 low fat, cholesterol-free recipes.
Wide range of tips and techniques for successful results.
Many recipes never before dreamed of doing in a slow cooker.
Recipes designed to fit most any size cooker.
Simple, yet perfect, baked potatoes, sweet potatoes, beans.
Delicious lasagna, macaroni & cheese, scalloped potatoes.
Time saving tips.
Tips for adapting your favorite recipes.
40 full color photographs.
Softcover, Spiral Bound, 144 pages.
Real time shoppers on site
stock running low.