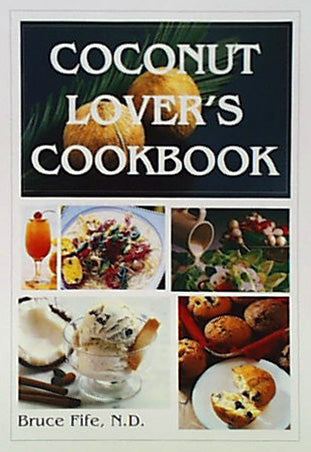 Coconut Lovers Cookbook
Regular price $17.50 Sale
---
Limited Items Selling Fast
poup with stuff in it
close
---
Coconut Lovers Cookbook
Bruce Fife, N.D.
If you like coconut, you will love this book. It's written for coconut lovers as well as for the growing number of health conscious individuals who recognize coconut as a marvelous health food.
Every recipe contains coconut in one form or another. Some recipes such as Coconut Battered Shrimp and Coconut Macaroons use shredded or flaked coconut. Others such as Chicken A La King and Strawberry Chiffon Pie use coconut milk or cream in place of dairy. The salad dressings and mayonnaise recipes are based on coconut milk and oil.
This book contains nearly 450 recipes with a mixture of both vegetarian and nonvegetarian dishes to choose from. You will find recipes for creating savory main dishes, appetizing side dishes, satisfying snacks, and nutritious beverages. You will find recipes for dairy-free smoothies and blender drinks, creamy soups and hearty chowders, delicious curries, stews, and casseroles. If you like desserts, you will find plenty here to choose from including German Chocolate Cake, Coconut Pecan Pie, and Chocolate Almond Ice Cream.
Concerned about sugar? No problem. Every sweet or dessert recipe includes a low sugar version. These recipes use very little sugar or none at all.
Coconut is ideal for low-carbohydrate diets because it contains very little effective (i.e., digestible) carbohydrate. It consists primarily of indigestible fiber and therefore, is a healthy and tasty low-carbohydrate, high-fiber food. The milk, cream, and oil are also low in carbohydrate and give foods a rich creamy taste and texture that is both healthy and delicious.
Real time shoppers on site
stock running low.