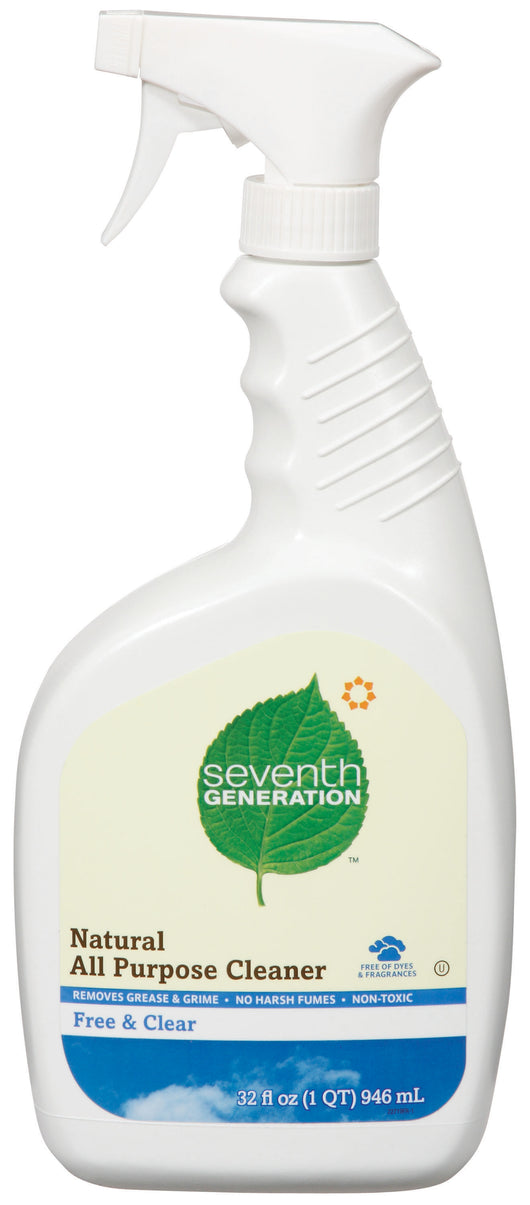 All Purpose Cleaner, Free&Clear
---
Limited Items Selling Fast
poup with stuff in it
close
---
All Purpose Cleaner, Free&Clear
Seventh Generation Natural All Purpose Cleaner, Free and Clear of perfumes and dyes. Non-Toxic. No Fumes. Hypo-Allergenic. No Phosphates.
"In our every deliberation, we must consider the impact of our decisions on the next seven generations." -- from The Great Law of The Iroquois Confederacy.
"Thank you for purchasing Seventh Generation products and for caring enough to help make the world a healthier and safer place for this and the next seven generations." -- Jeffrey Hollender, Founder & President.
You Are Making A Difference: If every household in the U.S. replaced just one bottle of 32 oz. petroleum based all-purpose cleaner with our renewable based product, we could save 7,100 barrels of oil, enough to heat and cool 400 U.S. homes for a year!
Non-toxic. Biodegradable. Vegetable based. NO Phosphates, dyes, or fragrances.
Our natural all-purpose cleaner effectively cleans and degreases inside and outside of the home. Unlike many conventional cleaning products, our product does not create unpleasant fumes, will not leave harmful residues, and is safer for the environment.
We disclose all ingredients.
INGREDIENTS: Natural emulsifier to allow water to mix with oil (Coconut-based Surfactant), Natural alkalinity builder for enhanced performance (Sodium Citrate), Preservative (less than 0.05%), Water.
Directions for use: Hold sprayer 6 to 8 inches from surface, spray area and wipe with paper towel or cloth. For wet mopping, add 2 to 4 oz. of cleaner per gallon of cool water. Safe for most washable surfaces -- pre-test water sensitive surfaces. Before using, always test for color fastness in an inconspicuous spot on painted surfaces, plastics, fabric, and carpet.
Caution: Keep out of reach of children.
Caution: In case of eye contact, flush with water for at least 15 minutes. If swallowed, drink a glassful of water.
Kosher OU.
Real time shoppers on site
stock running low.