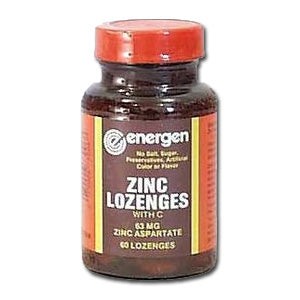 Zinc Lozenge
---
Limited Items Selling Fast
poup with stuff in it
close
---
Zinc Lozenge
This essential mineral is an ingredient of choice in throat lozenges during times of flu, colds, or sore throat due to its reported ability to promote glandular health and the proper functioning of the immune system. Used to bring pain relief and healing.
Supplement Facts
Each Lozenge Contains: Amount
Zinc Aspartate (15 mg Element Zinc) 63 mg
Vitamin C (Calcium Ascorbate) 100 mg
Vitamin A (Palmitate) 1000 IU
Slippery Elm 25 mg
Directions: Take 2 lozenges when needed. Allow them to dissolve in your mouth. Thereafter take 1 lozenge every 2 hours. Adults should not exceed 12 per day. Youths should not exceed 9 per day. Children under 60 pounds should not use half the above and not exceed 6 per day. This product should not be taken for extended periods without consulting your doctor.
Real time shoppers on site
stock running low.