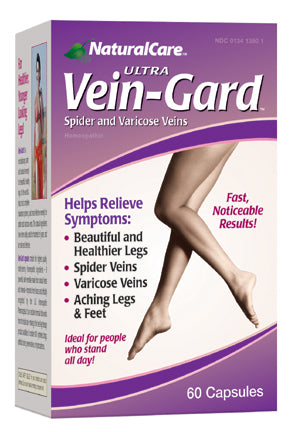 Vein Gard (for Varicose Veins)
Regular price $23.50 Sale
---
Limited Items Selling Fast
poup with stuff in it
close
---
Vein Gard (for Varicose Veins)
Ultra Vein-Gard for spider and varicose veins. Helps relieve symptoms: Beautiful and healthier legs, spider veins, varicose veins, aching legs & feet. Ideal for people who stand all day! For men and women. Fast, noticeable results.
How does Vein-Gard work? Vein-Gard utilizes the healing power of safe Homeopathic medicines that stimulate the body to heal itself. It works by decreasing capillary permeability, increasing venous tone, and boosting vein integrity.
By using both Vein-Gard cream and capsules simultaneously, it begins to work immediately - from both the inside and the outside - for fast results! You may begin to see a reduction in swelling of the legs or ankles within a few days and noticeable improvement in the appearance of your spider and varicose veins in just a few weeks. Because everyone is different, the amount of time it takes to see results may vary, depending on the severity of the condition, your skin's thickness and skin type. Some may need to use Vein-Gard for 3-6 months. For best results use in combination with Vein-Gard cream.
For healthier, younger looking legs! Vein-Gard is a safe revolutionary, safe and natural remedy for beautiful, healthy legs. It's the world's best, most complete, maximum potency, and most effective remedy for spider and varicose veins. The natural ingredients have been safely used for hundreds of years, and are safe and effective.
Vein-Gard capsules contain the highest quality, multi-potency homeopathic ingredients. Includes powerful, safe remedies made from natural herbs and minerals. Vein-Gard ingredients are imported from France and officially recognized by the U.S. Homeopathic Pharmacopoeia. It's an exclusive formula that works from the inside out - making it the best leg therapy product available! It contains NO synthetic drugs, artificial colors, preservatives or hydrocarbons.
Indications: Helps relieve symptoms that can be associated with spider veins, bulging, bluish, lumpy varicose veins, aching, sore and swollen feet and legs, burning, stinging, itching, and crawling sensations, vein inflammation, Phlebitis (inflammation of the veins, usually in legs), Ecchymosis (ruptured blood vessels).
ACTIVE INGREDIENTS: Aesculus hippocastanum 3x, 6x, 3c, Apis mellifica 3x, 6x, 12x, 30x, Carbl vegetabilis 6x, 30x, Carduus marianus 3x, 6x, Hamamelis Virginica 1x, 4x, 3c, Lycopodium clavatum 6x, 30x, Pulsatilla 3x, 6x, 30x, Secale cornutum 3x.
OTHER INGREDIENTS: Ascorbic Acid, Bromelain, Butcher's Broom, Cayenne, Gelatin, Ginger Root, Glycerin, Gotu Kola Extract, Grape Seed Extract, Horse Chestnut Seed Extract, Quercetin, Rutin, Titanium Dioxide.
Directions: Adults take 1 capsule, 3 times daily with meals. For optimal benefits, take 2 capsules 3 times daily.
Warnings: If you are pregnant or nursing a baby, seek the advice of a health professional before using this product. Keep out of reach of children.
Double safety sealed for your protection and product freshness. Do not use if seals are missing or tampered with.
Made in U.S.A.
Real time shoppers on site
stock running low.