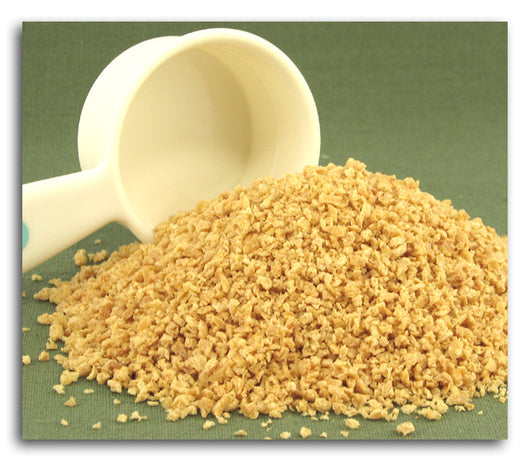 TVP, Textured Vegetable Protein
Regular price $50.99 Sale
---
Limited Items Selling Fast
poup with stuff in it
close
---
TVP, Textured Vegetable Protein
High Protein TVP Textured Vegetable Protein, NutriSoy. Gluten Free. All Natural.
Textured Vegetable Protein is a highly nutritious soy product. It is incredibly wealthy in complete protein and contains no fat, so it is an excellent alternative to meat. It is also a good source of dietary fiber, iron, magnesium and phosphorus. Textured Vegetable Protein is made from defatted soy flour that has been cooked under pressure and then dried. It is very easy to prepare, and since it takes on the flavor of whatever recipe it is added to, the array of recipes in which it may be used is immeasurable. TVP® and NutriSoy are registered trademarks of Archer-Daniels-Midland Co.
INGREDIENTS: Defatted Soy Flour.
Manufactured in a facility that also uses tree nuts and soy.
Nutrition Facts
Serving Size: 1/4 cup (24 g) dry
Servings Per Container: 11 (per 10 oz. bag.)
Nutrient Amount %DV
Calories 80
Calories from Fat 0
Total Fat 0 g 0%
Saturated Fat 0 g 0%
Trans Fat 0 g
Cholesterol 0 mg 0%
Sodium 2 mg 0%
Potassium 594 mg
Total Carbohydrate 7 g 2%
Dietary Fiber 4 g 16%
Sugars 3 g
Protein 12 g
Vitamin A 0%
Vitamin C 0%
Calcium 8%
Iron 15%
Magnesium 18%
Phosphorus 17%
How to Prepare TVP: To rehydrate the granules, pour 7/8 cup boiling water, vegetable broth or stock over 1 cup TVP. Stir and let stand 5 to 10 minutes. To cook in a microwave, cover tightly with plastic wrap and cook on high for 5 - 6 minutes; check after 2 minutes and add a little more liquid if needed. You can prepare a double batch of chunks, enough for 2 or 3 recipes, and the cooked TVP will keep in the refrigerator several days. Or freeze some to thaw later in a microwave or in the refrigerator. Once TVP has been rehydrated, it must be kept under refrigeration.
Bob's Red Mill products labeled Gluten Free are batch tested in our quality control laboratory. We use an ELISA Gluten Assay test to determine if a product is gluten free.
Keeps best refrigerated or frozen.
Gluten Free.
Kosher.
Real time shoppers on site
stock running low.