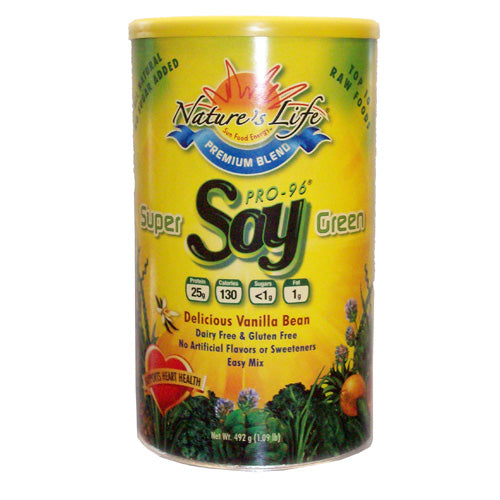 Super Green Pro 96 Powder
Regular price $19.99 Sale
---
Limited Items Selling Fast
poup with stuff in it
close
---
Super Green Pro 96 Powder
Nature's Life Super-Green Pro-96 Soy Protein Powder. High Protein. 0% Carbohydrates! Sugar & Cholesterol-Free. Natural Isoflavones: Genistein, Daidzein & Glycitein. PhytoGreen Blend. FiberZyme Blend. Protein helps build strong muscles. Soy Protein Identity Preserved. Suitable for Vegetarians.
Nature's Life guarantees that NO ingredients other than those listed on this label have been added to this product.
INGREDIENTS: Non-GMO* Soy Protein Isolate with Lecithin (Soy), PhytoGreen Blend (Hawaiian Spirulina, Barley Grass, Chlorophyll and Kelp), Natural Vanilla Flavor, FiberZyme Blend (Psyllium Seed Husks, Apple Pectin, Bromelain Enzyme, Papain Enzyme), Lemon Bioflavonoids and Pyridoxine HCl (Vitamin B-6).
*This identity Preserved Soy Protein Isolate is produced under an Identity Preservation Program based on a Non-GMO source of origin, with third-party certification of conformance to IP procedures.
Nutrition Facts
Serving Size: 1.4 cup (1 scoop / 30 g / 1.1 oz.)
Servings Per Container: 15
Nutrient Amount %DV
Calories 110
Calories from Fat 10
Total Fat 1 g 2%
Saturated Fat 0 g 0%
Trans Fat 0 g
Polyunsaturated Fat 0.5 g
Monounsaturated 0 g
Cholesterol 0 mg 0%
Sodium 310 mg 13%
Potassium 30 mg 1%
Total Carbohydrate <1 g 0%
Dietary Fiber <1 g 0%
Sugars 0 g
Sugar Alcohol 0 g
Protein 25 g 50%
Vitamin A (100% as Beta Carotene) 15%
Vitamin C 0%
Calcium 6%
Iron 25%
Vitamin B-6 40%
In addition to the nutrients listed in the Nutrition Facts box, Super-Green Pro-96 Soy Protein Powder also contains, based on a typical analysis of one serving (calculated):
AMINO ACIDS:
Alanine 1.1 g
Arginine 1.9 g
Aspartic Acid 2.9 g
Cysteine 0.3 g
Glutamic Acid 4.8 g
Glycine 1.0 g
Histidine 0.6 g
*Isoleucine 1.2 g
*Leucine 2.0 g
*Lysine 1.5 g
*Methionine 0.3 g
*Phenylalanine 1.3 g
Proline 1.3 g
Serine 1.3 g
*Threonine 0.9 g
*Tryptophan 0.3 g
Tyrosine 1.0 g
*Valine 1.3 g
*Essential Amino Acid.
Isoflavone content varies depending on growing conditions. Based on typical assays, isoflavone content ranges are calculated as:
Total Isoflavones 25 mg to 75 mg
Genistein 14 mg to 43 mg
Daidzein 7 mg to 22 mg
Glycitein 2 mg to 5 mg
Notice: Use this product as a food supplement only. Do not use for weight reduction.
Serving Suggestion: Mix on (1) scoop with 8 ounces of water or your favorite juice in a shaker or blender. To minimize calories and carbohydrates, use nonfat rice or soy milk.
Add fresh or frown fruits or vegetables for additional flavor and nutrition. Add crushed ice for cold, creamy texture or Nature's Life Golden Flax Seed Oil for a rich, creamy taste. Super-Green Pro-96 Soy Protein may also be used to increase the protein content of prepared foods such as muffins, pancakes or breads.
Protein Digestibility: Super-Green Pro-96 Soy Protein, with isolated soy protein provides complete, high quality vegetarian protein. Nature's Life soy protein isolate has a Protein Digestibility Corrected Amino Acid Score (PDCAAS) of 1.0.
Soy Protein & Heart Disease (see Nutrition Facts for more information) 25 grams of soy protein a day, as part of a diet low in saturated fat and cholesterol, may reduce the risk of heart disease. One serving of Super-Green Pro-96 Soy Protein supplies 25 grams of soy protein.
Store in a cool, dry place safely away from children.
Made with Pride in the USA.
Real time shoppers on site
stock running low.