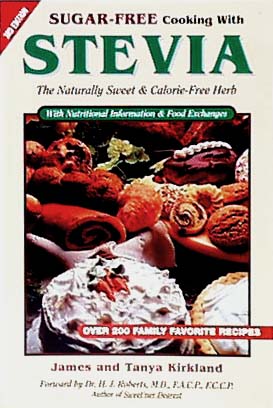 Sugar-Free Cooking with Stevia
Regular price $13.99 Sale
---
Limited Items Selling Fast
poup with stuff in it
close
---
Sugar-Free Cooking with Stevia
Written by James and Tanya Kirkland
Stevia is an all-natural herbal sweetener up to 300 times sweeter than sugar, and contains no calories, no artificial chemicals, and no carbohydrates. It can be used by everyone, even diabetics and children, won't promote tooth decay, and is great for cooking and baking. So why doesn't everyone use stevia?
Good question. Used for centuries in South America and the most popular non-caloric sweetener in Japan, stevia has been unfairly targeted by the FDA, read more about the controversy in Chapter 3 of the book.
This revolutionary sugar-free cookbook is the only book that gives you the most frequently asked questions about stevia, how to choose the best stevia and use it successfully, conversion charts, a choice between cooking with pure stevia extract, blends and packets, the use of basic ingredients you already have in your kitchen, and over 200 delicious recipes everyone will love!
280 pages, softbound, 3rd edition.
Real time shoppers on site
stock running low.