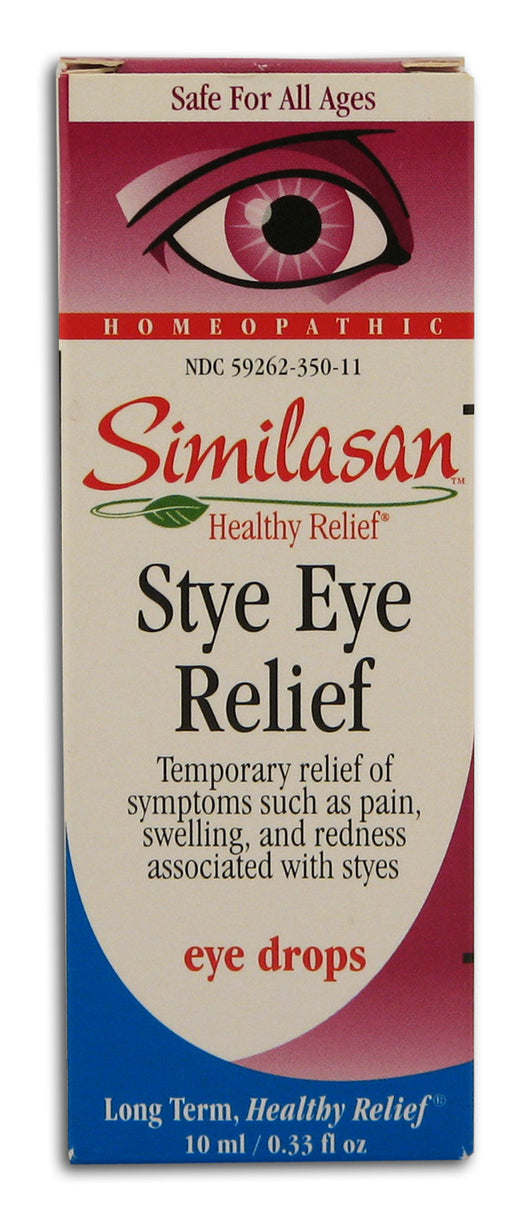 Stye Eye Relief
Regular price $69.99 Sale
---
Limited Items Selling Fast
poup with stuff in it
close
---
Stye Eye Relief
Stye Eye Relief Eye Drops. Temporary relief of symptoms such as pain, swelling, and redness associated with styles.
Long Term, Healthy Relief. Safe for all ages. Homeopathic.
Similasan Stye Eye Relief eye drops are a unique Active Response Formula medicine that stimulates the eye's natural ability to temporarily relieve symptoms of styes, such as the painful swelling, redness, and tearing. The sting-free formula has no known side effects or contraindications.
Similasan eye drops contain no harsh chemicals and will not cause reliance or the rebound effect.
Similasan Healthy Relief products have provided safe, effective relief to millions of people for over 25 years.
Uses: According to homeopathic principles, the active ingredients in this medication temporarily relieve minor symptoms associated with styes, such as: redness, tearing and painful swelling.
ACTIVE INGREDIENTS: Graphites 12X, Sulphur 12X, Conium maculatum 6X. Active ingredients are microdiluted in accordance with the Homeopathic Pharmacopoeia of the United States, and are therefore non-toxic and have no known side effects.
INACTIVE INGREDIENTS: Borate Buffer, Sodium Nitrate, Silver Sulphate (as preservative), Purified Water.
Drug Facts
Ingredient Purpose
Graphites 12X Painful swelling
Sulphur 12X Painful swelling
Conium maculatum 6X Painful swelling and redness
Directions: For adults and children age 2 and over: Remove tamper-evident seal from neck of bottle. Twist cap off bottle. Squeeze plastic tip to release 2-3 drops into eye. Apply 3-4 times per day. Replace cap after use. If desired, use with a warm, moistened washcloth placed directly on eyelid.
Warnings: The purpose of this product is to provide temporary relief of stye symptoms, and is not a cure for styes. For external use only. Initial exacerbation of symptoms may occur. Use only if bottle seal is intact. Replace cap tightly after every use. To avoid contamination, do not touch the tip of the container to any surface. Discard open bottle after 30 days. Contact wearers: consult a physician prior to using.
Do not use: If the solution changes color or becomes cloudy. If condition is accompanied by fever.
Stop use and ask a doctor if: Symptoms worsen or persist for more than 72 hours. Changes in vision occur. You experience eye pain. The stye enlarges. The stye opens, draining discharge or pus into the eye.
Made in Switzerland.
Real time shoppers on site
stock running low.