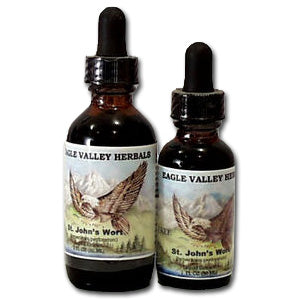 St. John's Wort
Regular price $14.99 Sale
---
Limited Items Selling Fast
poup with stuff in it
close
---
St. John's Wort
Tinctures, or extracts, are liquid preparations produced by adding herbs to a menstruum. A tincture preserves these plants medicinal qualities at the peak of their potency, especially when using fresh herbs.
Medicinal plants react favorably to stressful growing conditions, by this I mean they enhance their output of medicinal quality. This is exactly what makes the wild St. John's Wort that is harvested in Montana so strong. We have the climate that stresses the plants, particularly the ones that grow in the higher mountainous elevations.
Another factor is in the handling of the St. John's Wort flowers. They are very heat and light sensitive and will lose their medicinal quality if they are exposed to the sun and heat for any length of time. This is often a factor when the plant is dried for the making of tablets and/or capsules.
At Eagle Valley Herbals the St. John's Wort flower is picked fresh from the mountains and placed in the menstruum in a matter of hours. We are careful after harvesting to keep it out of the sun and heat. This preserves the plants constituents at the peak of potency. Almost instantly you can begin to see the menstruum drawing out the medicines, turning the liquid a rich deep blood red color. This is the color you get from a fresh made product, not one reconstituted from a dry plant that has made its way from China, Chile, Mexico or where ever.
Eagle Valley Herbals are never fumigated or irradiated and you can be assured of a fresh, potent and quality product. Unlike capsules or tablets, tinctures are viable for up to 5 years.
St. John's Wort has been extensively researched as an antidepressant and results in significant improvement in anxiety, depression, hypertension and worthlessness. It is an herb to be used during menopausal changes to ease irritability, and recent studies show it is a helpful aid in weight loss programs.
Fresh herb menstruum 1:2, contains grain alcohol. Keep out of the reach of children. This is an herbal dietary supplement.
Suggested use: Shake well before using. Take 15 to 20 drops once to three times a day.
To evaporate alcohol add drops to hot water and let sit five minutes before drinking.
Real time shoppers on site
stock running low.