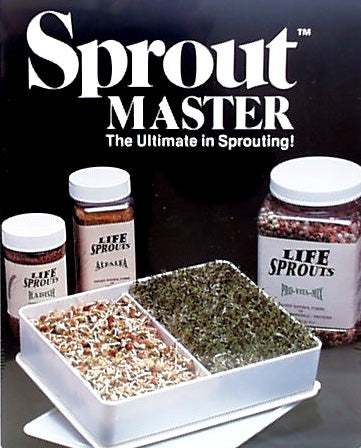 Sproutmaster Single
Regular price $20.75 Sale
---
Limited Items Selling Fast
poup with stuff in it
close
---
Sproutmaster Single
The Sproutmaster is packaged in singles, two's and three's. Each package has an extra lid so that the unit may be used as a crisper in the refrigerator. It is simple and easy to use and made to last. Made of durable white plastic.
Several sprouters can be stacked with the tray lid in place without losing necessary air circulation. Owning several sprouters makes it possible to rotate crops.
Each tray has a removable plastic divider so that you can grow 2 kinds of sprouts at once or only a half a crop if you wish. Each tray has a lower drip tray which is especially designed to allow air to circulate. When sprouts have reached their desired growth the trays may be placed in the refrigerator with the lid on top and the drip trays below; they will become crispy.
Life giving sprouts contain live enzymes necessary for the digestive process. They contain few if any calories and no cholesterol. Sprouts are one of the highest forms of vitamins and nutrients necessary for a long healthy life. There are up to 600% more vitamins from sprouted seeds over ones unsprouted.
Sprouts do not sour when properly cared for in this device.
Real time shoppers on site
stock running low.