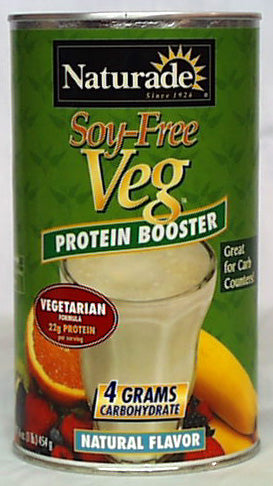 Soy-Free Veg Protein Booster
Regular price $14.99 Sale
---
Limited Items Selling Fast
poup with stuff in it
close
---
Soy-Free Veg Protein Booster
Naturade soy free vegetable protein booster is an important product for people who exclude meat and dairy from their usual diet but whose system doesn't tolerate soy. Naturade soy free vegetable is pure vegetable protein. This unique blend of high quality protein from pea, rice, potato, barley and spirulina provides a balanced supply of amino acids. Methionine and lysine are added to match the amino acid profile of animal protein. This all natural product has absolutely no animal, egg or dairy derivatives.
Naturade Soy-Free Veg is concentrated protein with 4 grams of carbohydrate per serving. It's ideal for someone trying to manage their carbohydrate intake. As a protein booster, Naturade Soy Free Veg assures that you get all the amino acids in the right proportion, including all the essential amino acids that your body can't produce on its own.
Naturade Soy-Free Veg is fortified to provide 100% of the daily value of vitamin B12, plus 8 mg of iron and 150 mg of calcium per serving. The amount of these nutrients is usually inadequate in an all-vegetable diet. Naturade Soy-Free Veg is formulated with pea protein that has not been genetically modified. So you can confidently add protein to the foods and drinks you prepare with 4 grams of carbohydrate and no added sugar.
No aspartame, no acesulfame K, no artificial sweeteners. No artificial flavors, colors or preservatives. No MSG, no sucrose. Lactose free, yeast free. No egg, dairy or animal derivatives. Suitable for vegetarians.
INGREDIENTS: Protein Blend (Pea Protein Isolate, Rice Protein, Potato Protein Hydrolysate, Spirulina), Tricalcium Phosphate, Medium Chain Triglycerides, Fiber Blend (Rice Bran, Corn Bran, Apple Fiber, Oat Fiber, Pea Fiber), Natural Flavors, Reishi and Shiitake Mushroom Extract, Enzyme Blend (Papain, Bromelain), DL-Methionine, L-Lysine Hydrochloride, Cyanocobalamin.
Nutrition Facts
Serving Size: 1/3 cup (28.4 g)
Servings per Container: 16
Nutrient Amount % DV
Calories 110
Calories from Fat 10
Total Fat 1 g 2%
Saturated Fat 0 g 0%
Cholesterol 0 mg 0%
Sodium 290 mg 12%
Potassium 30 mg <1%
Total Carbohydrate 4 g 1%
Dietary Fiber 0 g 0%
Sugars 0 g
Protein 22 g 44%
Vitamin A 0%
Vitamin C 0%
Calcium 15%
Iron 30%
Vitamin B12 100%
Phosphorus 30%
Directions: Drinks and smoothies: Stir or shake 1/3 cup into 8 ozs of your favorite juice or beverage. For a delicious smoothie add it to crushed ice and fruit in a blender.
Food preparation: Use in cooking to add protein to sauces, soups, stews and casseroles or to cereals, pancakes and muffins. Natural flavor has little taste so you can add it to most foods.
Notice: Use this product as a food supplement only. Do not use for weight reduction.
Real time shoppers on site
stock running low.