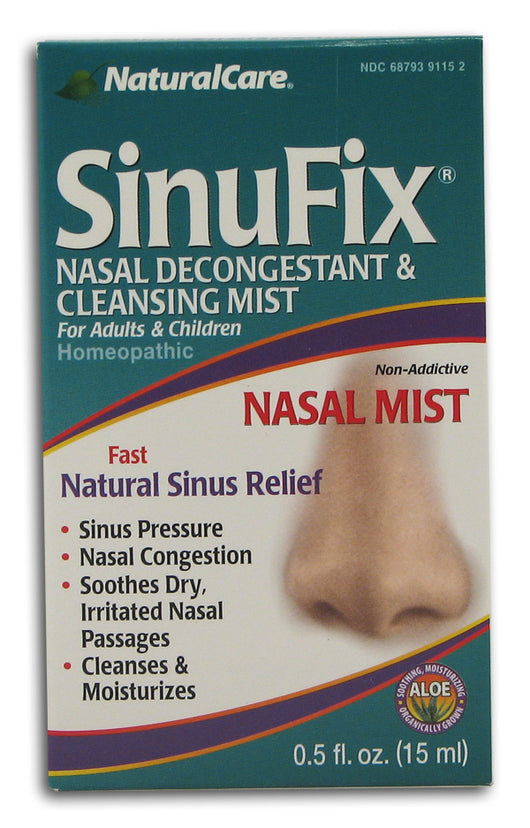 SinuFix Mist
Regular price $16.50 Sale
---
Limited Items Selling Fast
poup with stuff in it
close
---
SinuFix Mist
SinuFix Nasal Decongestant & Cleansing Mist for adults and children. Fast natural sinus relief: Sinus Pressure; Nasal Congestion; Soothes Dry, Irritated Nasal Passages; Cleanses & Moisturizes. Non-Addictive Nasal Mist with Soothing, Moisturizing, Organically Grown Aloe.
- Breathe Freely, Soothe Nasal Passages, and Relieve Sinus Pressure.
- Works in Seconds.
- Safe to Use as Often as Needed.
- No Chemical Dependency.
- No Synthetic Drugs.
- No Artificial Preservatives.
- For Adults & Children.
- Provides Fine Mist in Precise Dose Spray.
- Year-round Relief.
- Nonprescription.
- No Side-Effects.
SinuFix helps make nasal passages and sinuses feel clear and more comfortable so you can breathe and sleep better, fast!
Therapy for sinus/allergy problems should help control symptoms and also help people feel and function better in their everyday lives.
Antibiotics are widely used to treat sinusitis. According to the Mayo Clinic, the primary cause of sinusitis is fungi -- molds and yeast which become airborne like pollen. Antibiotics, therefore, are not effective, in most cases, because they target bacteria.
Synthetic over-the-counter decongestants may offer some relief of symptoms, but they have no effect on the inflammation. With prolonged use, common nasal decongestants typically become ineffective and can lead to dependency.
Indications: For the temporary, soothing relief of nasal congestion, sinus congestion and pressure and dry, irritated nasal membranes associated with sinusitis; irritated/swollen sinus passages; hay fever; a cold; overuse of decongestant sprays or drops; or other upper respiratory allergies (allergic rhinitis). Helps clear nasal passages and promote nasal and/or sinus drainage.
ACTIVE INGREDIENTS: Allium cepa 6X, Ambrosia artemisiaefolia 6X, Argentum metallicum 8X, Echinacea angustifolia 3X, 6X, 12X, Euphorbium officinarum 4X, 6X, 12X, Hepar sulphuris calcareum 8X, Hydrastis canadensis 3X, 6X, 12X, Kali bichromicum 6X, 10X, Kali sulphuricum 3X, 6X, 12X, Lemna minor 3X, Luffa operculata 6X, Origanum vulgare 3X, 6X, Pulsatilla 3X, Sabadilla 6X, Sanginaria canadensis 6X, Silicea 8X, Spigelia anthelmia 3X, Zinc gluconicum 2X, 6X.
OTHER INGREDIENTS: Aloe Vera Extract(Patented Organically Grown), Butterbur, Grapefruit Oil, Green Tea Extract, Purified Nano Silver (Patented Process), Quercetin, Sorbitol, Stinging Nettle, Tea Tree Oil.
Directions: Adults and children 6 years of age and older: Clear the nasal passageway by gently blowing your nose prior to using SinuFix. Remove the safety clip on the bottle. Prior to initial use, prime the pump by holding it upright and pumping 1 or more times into a tissue until the solution is dispensed. Insert nozzle into nostril and depress pump completely while breathing in through your nose. Spray 1-2 times in each nostril every 2-4 hours until symptoms subside. The nasal pump sprayer provides precise dose delivery of the soothing spray in a fine mist. Wipe nozzle clean after each use and replace cap. Children under 6 years of age: Consult a health care professional.
Warnings: The use of this container by more than one person may spread infection. If you are pregnant or nursing a baby, seek the advice of a health professional before use. If symptoms worsen or do not improve within 7-14 days, or are accompanied by fever, consult your doctor. Keep out of the reach of children.
Real time shoppers on site
stock running low.