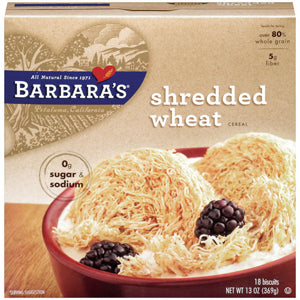 Shredded Wheat, Original
Regular price $55.50 Sale
---
Limited Items Selling Fast
poup with stuff in it
close
---
Shredded Wheat, Original
Barbara's Shredded Wheat. 100% Natural. No Salt Added. 100% Whole Wheat. No Sugar Added.
The Better Breakfast Food: Studies show that people who eat cereal for breakfast have better nutritional profiles. They tend to get more vitamins, minerals and fiber than those who eat high calorie, high fat foods like pastries, bagels or other popular breakfast foods. People who eat wholegrain cereals like Barbara's Shredded Wheat general have less fat for breakfast, stay satisfied longer and have more sustained energy throughout the morning.
What's So Great About Wholegrain? We've all been told that whole grains are better for us, but few of us really know why. By eating primarily whole grains, you are ensuring that your body gets the dietary fiber, vitamins and minerals it needs. Whole wheat kernels consist of three components: endosperm, bran and germ. Wheat bran and wheat germ are two of nature's nutrient powerhouses, containing the dietary fiber, essential fatty acids and antioxidants important for a healthy diet. Refined or processed grains have been stripped of these components and the vitamins and minerals they provide.
Over 100 Years of History in Every Bite. In 1894, Henry D. Perky produced the first shredded wheat biscuit in Niagara Falls, NY. Over 100 years later, Barbara's continues the tradition, using the same care and attention to detail with Barbara's Shredded Wheat. The original natural cereal, and still the most delicious, shredded wheat has a crispy, crunchy goodness that comes from 100% wholegrain wheat. Minimally processed and gently toasted to retain all the goodness nature intended, its naturally satisfying taste is fiber-rich and low-fat with no sugar or salt added.
Dietary Features: 100% Natural. 100% Wholegrain. High Fiber. Low Fat. No Hydrogenated Oils or Trans Fats. No Cholesterol. No Sugar or Salt Added. Dairy Free. Vegan. No Artificial Flavors, Colors or Preservatives. Kosher OU.
Since 1971, Barbara's Bakery has provided great tasting products made from the finest 100% natural ingredients. Great Taste Without Compromise.
Barbara's For a Brighter Future: Barbara's Bakery is committed to providing the highest quality and best tasting natural foods while making a positive contribution to the world. That's why we've donated over one million dollars, as well as our time and energy, to local and national nonprofit organizations. Each time you choose a Barbara's product, you support them, too.
INGREDIENTS: 100% Whole Wheat.
Nutrition Facts
Serving Size: 2 Biscuits (40 g)
Serving Per Container: 9
Nutrient Amount %DV
Calories 140
Calories from Fat 10
Total Fat 1 g 2%
Saturated Fat 0 g 0%
Trans Fat 0 g
Cholesterol 0 mg 0%
Sodium 0 mg 0%
Potassium 160 mg 5%
Total Carbohydrate 31 g 10%
Dietary Fiber 5 g 20%
Sugars 0 g
Protein 4 g
Vitamin A 0%
Vitamin C 0%
Calcium 2%
Iron 6%
Vitamin D 0%
Thiamin 6%
Riboflavin 2%
Niacin 10%
Vitamin B6 4%
Folic Acid 4%
Phosphorus 15%
Magnesium 15%
Zinc 8%
Copper 10%
This product is sold by weight not volume. Some settling of contents may have occurred during shipping and handling.
Kosher OU.
Product of Canada.
Real time shoppers on site
stock running low.