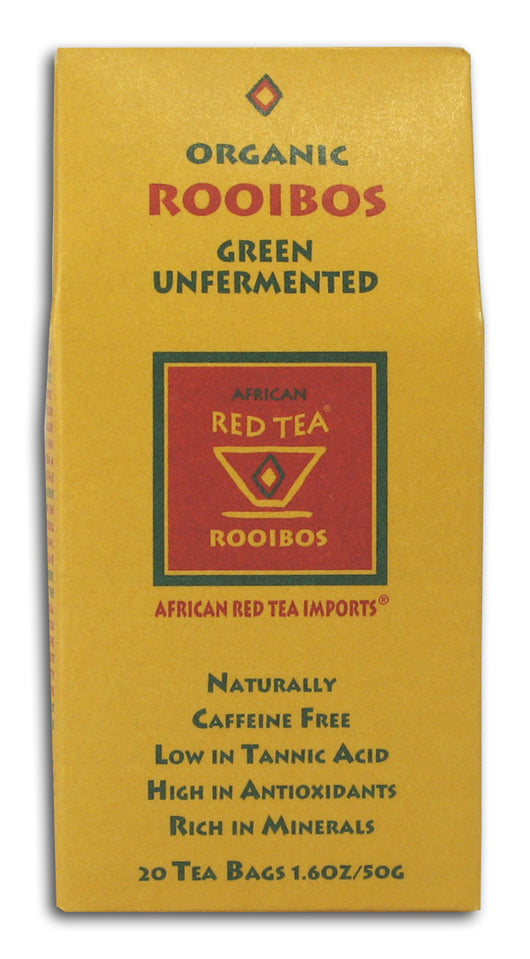 Rooibos Green Unfermented Tea, Organ
Regular price $94.50 Sale
---
Limited Items Selling Fast
poup with stuff in it
close
---
Rooibos Green Unfermented Tea, Organ
Organic Rooibos Green Unfermented Tea. Naturally Caffeine Free. Low in Tannic Acid. High in Antioxidants. Rich in Minerals. 20 Tea Bags 1.6 oz/50 g.
Scientific studies show that Red Tea is naturally high in super oxide dismutase (SOD), an outstanding antioxidant. Red Tea contains very little tannin, a substance that is known to effect the metabolism by decreasing absorption of certain nutrients like iron and protein.
Keeping You Healthy: For a great taste try it with milk, or cold mixed with your favorite fruit juice. Red Tea can be used in baking and cooking. Substitute the liquid content in any recipe with an equal amount of ready made tea. Fact: The antioxidant activity increases when the tea is boiled for longer than 10 minutes.
Since 1900, Red Tea has been treasured as an elixir for the mind, body and spirit. The local "mountain people" were drinking a particular beverage that they called "Red Bush" in English. This rich, red tea comes from a wild plant of the legume family called "Aspalathus linearis" which grows on the slopes of the Cederberg Mountains in Cape Town. They believed this tea to have tremendous healing powers, and it is often called "The Miracle Tea" in South Africa. We are proud to bring you our Red Tea farmed in the same area whence it was first discovered. Strict quality control enables us to provide you with the finest and best tasting Red Tea available.
INGREDIENTS: Organic Green Unfermented Rooibos Red Tea.
Supplement Facts
Serving Size: 1 tea bag (Makes 8 fl. oz.)
Nutrients Per 200 ml (1 cup) Amount %DV
Potassium 7.12 mg *
Calcium 1.09 mg *
Copper 0.07 mg *
Zinc 0.04 mg *
Magnesium 1.57 mg *
Fluoride (naturally occurring) 0.22 mg *
Manganese 0.04 mg *
Sodium 6.16 mg *
Iron 0.07 mg *
Quercetin *
*Daily Value not established.
Directions: Pour 1 cup boiling water over tea bag, steep for 5 minutes. For increased strength and flavor - steep longer or boil tea bag in a pot of water for longer than 5 minutes.
Kosher Parve.
Product of South Africa.
Real time shoppers on site
stock running low.