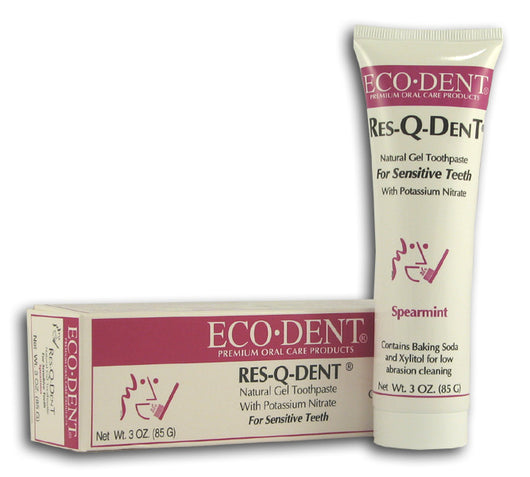 Res-Q-Dent (Sensitive Teeth), Spearm
---
Limited Items Selling Fast
poup with stuff in it
close
---
Res-Q-Dent (Sensitive Teeth), Spearm
Res-Q-Dent Natural Gel Toothpaste, with Potassium Nitrate, For Sensitive Teeth. Spearmint Flavor. Contains Baking Soda and Xylitol for low abrasion cleaning.
Res-Q-Dent is the natural answer for providing relief for sensitive painful teeth due to heat, cold, sweets, contact pressure, acids or other painful stimuli. Our refreshing, great-tasting gel toothpaste also provides superior tooth cleaning action with low abrasion. We also provide additional benefits by using Baking Soda and Aloe in our formulation. Baking Soda is well known for its ability to effectively clean teeth without abrasion, so you protect your sensitive tooth enamel. Aloe is soothing and refreshing to the gums. We also include Xylitol which has been the subject of a number of studies for its cleansing benefits to the teeth.
Res-Q-Dent Natural Pain Relief Toothpaste Gel provides relief for sensitive teeth, naturally: No Fluoride, No Artificial Sweeteners, No Sodium Lauryl Sulfate, No Animal Ingredients, Cruelty Free -- This Product not tested on animals, No Propylene Glycol, No Parabens or Other Artificial Preservatives, No Artificial Colors or Flavors.
Our ingredients' benefits: Potassium Nitrate - Pain relief; Baking Soda - Helps neutralize acids with low abrasion; Xylitol - Helps reduce plaque; Aloe - Soothing; Grapefruit Seed Extract - Natural preservative.
Uses: helps reduce and provide increasing protection against painful sensitivity of the teeth to sweets, heat, cold, acids or contact.
Drug Facts
Active Ingredient Purpose
Potassium Nitrate 5.0% tooth desensitizer
INACTIVE INGREDIENTS: Sorbitol, Glycerin, Sodium Bicarbonate, Kaolin Usp, Carboxymethyl Cellulose, Sodium Cocoyl Glutamate, Sodium Lauryl Sarcosinate, Xylitol, Stevia Extract, Grapefruit Seed Extract, Aloe Barbadensis Leaf Juice, Purified Water, Hydrated Silica, Menthol, Spearmint Oil, Sodium Ascorbate, Calcium Ascorbate, Boron Citrate, Zinc Citrate.
Directions: Adults and children 12 years and over: apply at least a 1 inch strip of toothpaste onto a soft bristle toothbrush. Brush teeth thoroughly at least one minute twice a day (morning and evening) or as recommended by your doctor or dentist. Make sure to brush all sensitive areas of the teeth. Children under 12 years: Ask a doctor or dentist.
Warnings: When using this product do not use for more than 4 weeks unless recommended by a doctor or dentist. Stop use and ask a doctor or dentist if the problem continues or gets worse. Sensitive teeth may indicate a serious problem requiring prompt care.
Keep out of reach of children. If more than normal brushing amounts is accidentally swallowed, get medical help or contact a Poison Control Center right away.
Real time shoppers on site
stock running low.