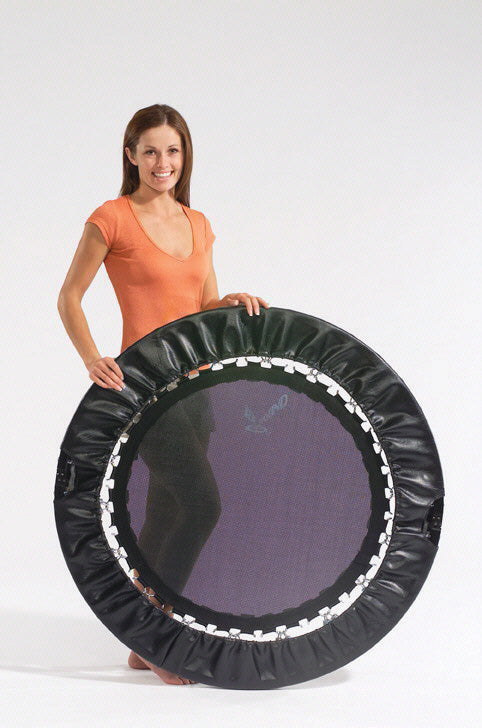 ReboundAIR, Half Fold
Regular price $439.50 Sale
---
Limited Items Selling Fast
poup with stuff in it
close
---
ReboundAIR, Half Fold
Half-fold ReboundAIR mini-tramp with aerobics DVD "Keep on Rebounding" included!
Get healthy, wealthy and wise through rebound exercise.
You've seen them before, those little mini-trampolines. You probably didn't realize that they offer far reaching health benefits both as exercise equipment and as support equipment for other forms of exercises.
Benefits of rebounding:
Lose weight properly.
Full aerobic, cardiovascular and strength workout.
Improve balance, coordination.
Improve muscle and skin tone.
Significantly less shock (trauma) to joints than jogging.
Increased G force creates a better workout.
Can be used by injured, disabled and elderly.
Excellent for rehabilitation.
Convenient.
Great starting exercise for the sedentary.
Improves lymphatic circulation and immune function.
Recommended by trainers, chiropractors, medical doctors and physical therapists.
Works well with existing exercise equipment for a more complete workout.
Large varieties of exercise routines for all levels.
And its fun!
Of course, if you are using any piece of exercise equipment on a regular basis it has to be able to stand up to the rigors of regular use. The ReboundAIR has been designed with stringent quality requirements.
Safe, sturdy, portable, compact, permatron mat, lifetime warranty. Attractive 40" diameter frame. Wide-bellied high caliper springs.
Half-fold, includes free carrying case.
Real time shoppers on site
stock running low.