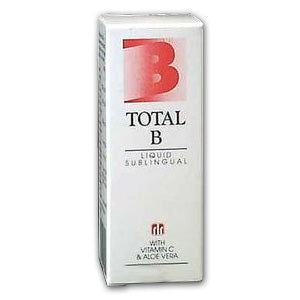 Real Life Total B Sublingual Liq
Regular price $21.99 Sale
---
Limited Items Selling Fast
poup with stuff in it
close
---
Real Life Total B Sublingual Liq
The vitamins in Total B come to you via Real Life Research's unique liquid sublingual delivery system.
Total B contains a 30-day supply when taken according to directions.
Supplement Facts
Each day's supply (24 drops - 2 ml) contains: Amount
Vitamin C (Ascorbic Acid) 120.0 mg
Vitamin B-3 (Niacin) 40.0 mg
Vitamin B-5 (Pantothenic Acid) 20.0 mg
Vitamin B-6 (Pyridoxine HCl) 4.0 mg
Vitamin B-2 (Riboflavin) 4.7 mg
Vitamin B-1 (Thiamine) 3.0 mg
Biotin 650.0 mcg
Folic Acid 400.0 mcg
Vitamin B-12 (Cyanocobalamin) 48.0 mcg
IN A BASE of rice syrup and aloe vera.
Directions: Total B is in a liquid form, which allows for more rapid and complete assimilation, especially when administered sublingually (under the tongue). Place 8 drops under your tongue 3 times a day. Hold under tongue for 30 to 60 seconds. Use as a dietary supplement.
Total B - the Original Liquid Sublingual B Complex with Vitamin C and Aloe Vera. This product is formulated with Natural Source Nutrients, and contains: no alcohol, yeast, wheat, or corn; no sucrose, sorbitol, corn sweetener or high fructose; no artificial flavorings, colorings or animal products.
Real time shoppers on site
stock running low.