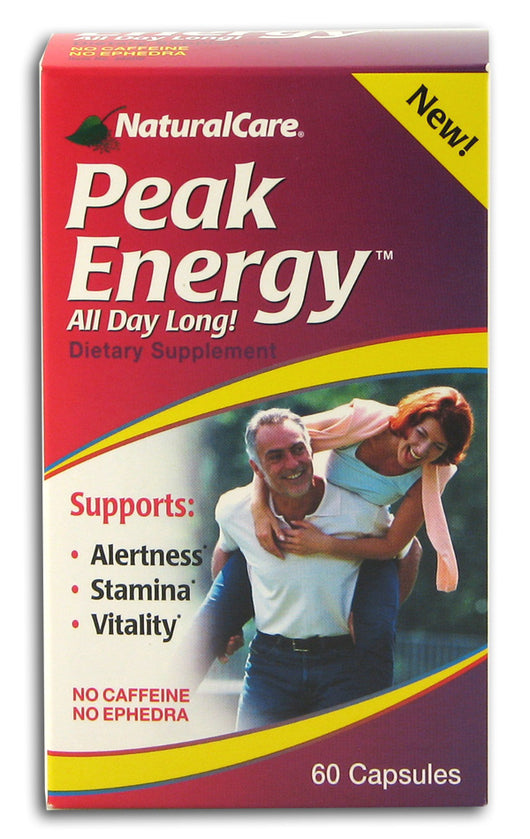 Peak Energy
Regular price $20.50 Sale
---
Limited Items Selling Fast
poup with stuff in it
close
---
Peak Energy
NaturalCare Peak Energy. Supports Alertness, Stamina, Vitality. — All Day Long!* NO Caffeine, NO Ephedra.
Increase Your Natural Energy Levels! With the pressures of every day life, it seems like we are looking for more natural ways to increase energy and alertness at work, school, play and home. Peak Energy is a unique formulation that does just that, supports your energy levels and helps you achieve all the things that you want to achieve in the day. Peak Energy helps you do the work, it supports the circulatory system which helps pump the nutrients and energy that you need throughout your body. Don't feel run down or too tired. Let Peak Energy help you help yourself. Along with Peak Energy, proper diet and exercise, you can feel energized today!
Experience Peak Energy Today! The lack of energy can be very frustrating. There could be many reasons for not having energy -- lack of sleep; diet (high in sugar and saturated fats); increased stress; lack of exercise. When you experience are anticipate higher levels of increased mental or physical stress, this stimulates short term energy which may lead to over stimulation of the nervous system and could impact your future health.
Peak Energy is a proprietary herbal formula designed to specifically support the energy process of the body. In addition, plan to take breaks and/or periods of relaxation for your body and mind to recoup. Also, healthy eating helps feed your body important nutrients required for natural energy.
Supplement Facts
Serving Size 2 Capsules
Servings Per Container 30
Nutrient Amount %DV
Vitamin C (Ascorbic Acid) 100 mg 167%
Vitamin E (as d-alpha tocopheryl succinate) 30 IU 100%
Thiamine (as Thiamine HCL) 10 mg 667%
Riboflavin (Vitamin B2) 10 mg 588%
Niacin (as Niacinamide) 25 mg 125%
Vitamin B-6 (as Pyridoxine HCL) 10 mg 500%
Biotin 300 mcg 100%
Pantothenic Acid (as d-cal pantothenate) 150 mg 1500%
Iodine (from kelp) 220 mcg 147%
Selenium (as Selenium Methionate) 100 mcg 143%
Proprietary Blend 590 mg
Ashwaganda Powder
L-Tyrosine
Rhodiola Rosea Ext (3% Rosavin, 1% Salidroside)
Asian Ginseng
N Acetyl Cysteine
Gotu Kola Powder
Alpha Lipoic Acid
OTHER INGREDIENTS: Gelatin, Glycerin, Magnesium Stearate, Silica, Titanium Dioxide (natural mineral capsule color).
Suggested Use: Adults: 2 capsules as needed throughout the day. Do not take late in the day or the evening if sleeplessness occurs.
Warning: Consult your health care professional before taking this product if pregnant or nursing. Keep out of reach of children.
Double safety sealed for your protection and product freshness. Do not use if seals are missing or tampered with.
Real time shoppers on site
stock running low.