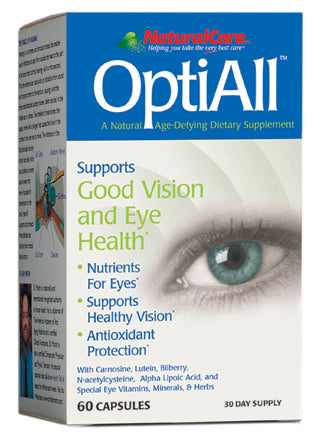 OptiAll
Regular price $26.99 Sale
---
Limited Items Selling Fast
poup with stuff in it
close
---
OptiAll
Many of us take seeing for granted, but millions of people are very concerned about their vision. We spend much of our time today reading, writing and watching TV or computer screens. Research shows that too much sun not only damages our skin, but is also harmful to our eyes. Projections indicate that the number of people with vision concerns are growing as more people are experiencing vision issues at an earlier age. It's smart to take whatever steps we can towards supporting good vision and protecting our precious eye health.
New research reveals that the powerful antioxidants in OptiAll - carnosine, lutein, alpha lipoic acid and bilberry, along with standardized phytonutrients and essential vitamins and minerals - neutralize free radicals that can be harmful for the eyes. They also help protect the eyes from damage associated with aging.
OptiAll is a high quality, exclusive formulation providing the most advanced, most effective form of all-natural nutrients directly targeted for the eyes, and backed by recent clinical studies. No artificial colors, preservatives, fillers, binders, gluten or yeasts.
The human eye is remarkable. What we think of as the simple act of seeing is actually a complex process that goes on a breathtaking speed. Light enters the eye through the pupil (the round opening in the center of the colored iris) which opens and closes and controls how much light enters the eye. The light is focused by the lens (immediately behind the iris) which adjusts its shape by muscles and ligaments. The lens performs delicate focusing of light rays upon the retina, photoreceptor nerve cells that line the inside back wall of the eye. The photoreceptor cells change the light rays into electrical impulses and send them through the optic nerve to the brain where an image is perceived. All the vital components of the eye must function properly to prove clear vision. Anything that interferes with this delicate process can result in impaired vision.
Supplement Facts
Serving Size: 2 capsules
Servings per Container: 30
Nutrient Amount % DV
Vitamin A 10,000 IU 200%
(as Acetate 80% and Beta Mixed Carotenes from D Salina)
Vitamin C (as Ascorbic Acid) 250 mg 417%
Vitamin E (as D-Alpha Tocopheryl Succinate) 30 IU 100%
Riboflavin (Vitamin B2) 5 mg 294%
Vitamin B12 (as Cyanocobalamin) 50 mcg 833%
Vitamin B6 (Pyridoxine HCl) 10 mg 500%
Zinc (as Amino Acid Chelate) 15 mg 100%
Selenium (as Selenomethionine) 25 mcg 36%
Copper 1 mg 50%
Taurine 150 mg
Carrot Powder 100 mg
N-Acetylcysteine (NAC) 50 mg
Bilberry Extract (at 25% Anthocyanosides) 30 mg
Carnosine 25 mg
Eyebright (Herb) 25 mg
Quercetin 25 mg
Rutin 20 mg
Alpha Lipoic Acid 15 mg
Ginkgo Biloba Leaf (at 24% Glycosides/% Terpenes) 10 mg
Green Tea Extract 10 mg
(at 90% Polyphenols/50% Catechins)
Lutein (as Marigold Flower Extract at 5% Lutein) 3 mg
Zeaxanthin (from Dunaliella/Lutein) 140 mcg
OTHER INGREDIENTS: Gelatin (capsule).
Suggested use: As a dietary supplement adults take 2 capsules daily. For optimal benefits take 2 capsules twice daily.
Real time shoppers on site
stock running low.