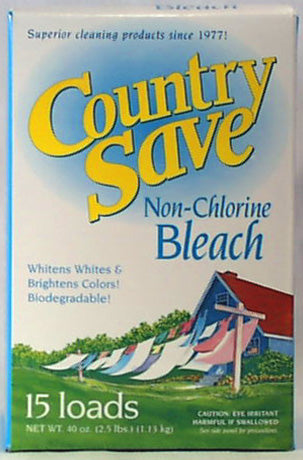 Non-Chlorine Bleach (15 LOADS)
---
Limited Items Selling Fast
poup with stuff in it
close
---
Non-Chlorine Bleach (15 LOADS)
Whitens whites and brightens colors. Completely biodegradable. Dye and fragrance free. Gentle for sensitive skin. Ultra-concentrated.
INGREDIENTS: Sodium carbonate, sodium perborate, Sodium sulfate, Primary linear alcohol ethoxylate.
Directions for all-temperature use: Front load machines (normal capacity) 1/4 cup. Top load machines (large capacity) 1/3 cup. Heavily soiled or hard water loads 1/3 cup.
For best results: Put Country Save Non-Chlorine Bleach in washer first. Begin filling with water, then add clothes. For use with any detergent or soap.
Cold water washing tip: First dissolve in a small amount of warm water.
Presoaking for difficult stains: First check to see that your item is colorfast. Dissolve 1/4 cup of Country Save Non-Chlorine Bleach and your regular detergent in washer with correct temperature water, add clothes and soak for at least 30 minutes.
Test for colorfastness and washability: Dissolve 1 teaspoon of Country Save Non-Chlorine Bleach in 1 cup of hot water. Soak a hidden portion of the item for 1 minute in solution. If color doesn't fade or bleed, proceed with recommended washing instructions. Avoid spilling Country Save directly on wet fabric as spotting may occur.
General hints: Follow garment manufacturer's instructions. Check items for colorfastness and washability. Use cold water for protein-based stains such as blood, milk, and eggs. Use warm water for most other stains. Use hot water for greasy and oily stains. Presoaking is recommended for difficult stains.
Caution: Eye irritant. Harmful if swallowed. Keep out of reach of children.
Caution: Contains Sodium Perborate and Sodium carbonate. If swallowed, give 1 or 2 glasses of water, induce vomiting and call a physician. Avoid contact with eyes. In case of contact with eyes, flush eyes with water for 15 minutes and get medical attention.
Not to be used with chlorine bleach.
Country Save has not been tested on animals and contains no animal by-products.
Phosphate free.
Biodegradable.
Septic tank safe.
Real time shoppers on site
stock running low.