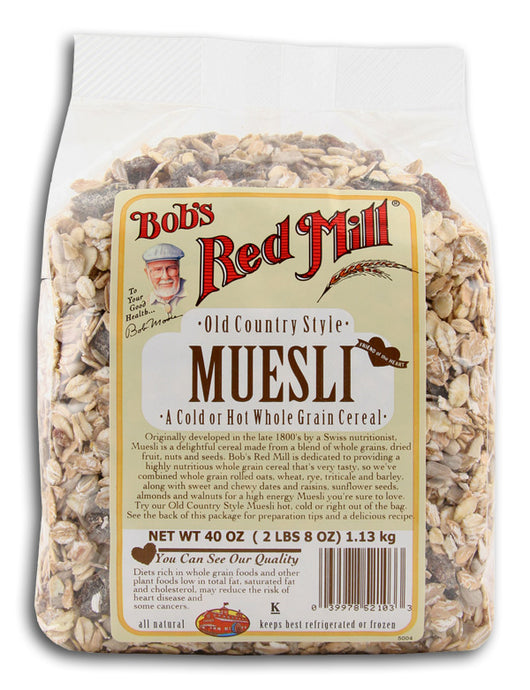 Muesli, Old Country Style
Regular price $28.99 Sale
---
Limited Items Selling Fast
poup with stuff in it
close
---
Muesli, Old Country Style
Old Country Style Muesli - A Cold or Hot Whole Grain Cereal, Plus Omega-3 Rich Flaxseed. All Natural. Friend of the heart.
Originally developed in the late 1800's by a Swiss nutritionist, Muesli is a delightful cereal made from a blend of whole grains, dried fruits, nuts and seeds. Bob's Red Mill® is dedicated to providing a highly nutritious whole grain cereal that's very tasty, so we've combined whole grain rolled oats, wheat, rye, triticale and barley, along with sweet and chewy dates and raisins, sunflower seeds, almonds and walnuts for a high energy Muesli you're sure to love. Try Bob's Red Mill® Old Country Style Muesli hot, cold or right out of the bag.
"Dear Friends, Whole grain foods are important to your diet. A whole grain includes all three parts of the grain kernel: the bran, endosperm and germ. In addition to fiber, they also contain important vitamins, minerals, and hundreds of unique phytochemicals. Recent scientific research has discovered that the benefits of eating whole grains come from the synergistic effects of the fiber, vitamins, minerals and phytochemicals -- not just the individual components. Studies clearly show that including whole grains in your diet may reduce your risk of certain chronic diseases.
"Certain Cancers: Scientific evidence suggests that eating whole grains reduces the risks for some cancers, especially gastrointestinal cancers.
"Heart Disease: Antioxidants contained in whole grains may work with fiber and other compounds to reduce your overall risk of heart disease.
So for your good health, start eating at least three servings of whole grain foods every day. My Bob's Red Mill Old Country Style Muesli is a delicious way to include them in your diet. It carries my highest endorsement. To Your Good Health ~ Bob"
INGREDIENTS: Whole Grain Rolled Oats, Wheat, Rye, Triticale and Barley, Almonds, Date Crumbles, Raisins, Sunflower Seeds, Flaxseed and Walnuts.
Manufactured in a facility that also uses tree nuts, soy, wheat and milk.
Nutrition Facts
Serving Size: 1/4 cup (31 g)
Servings Per Container: 18
Nutrient Amount %DV
Calories 110
Calories from Fat 25
Total Fat 3 g 5%
Saturated Fat 0 g 0%
Trans Fat 0 g
Cholesterol 0 mg 0%
Sodium 0 mg 0%
Total Carbohydrate 21 g 7%
Dietary Fiber 4 g 14%
Soluble Fiber less than 1 g
Insoluble Fiber 3 g
Sugars 5 g
Protein 4 g
Vitamin A 0%
Vitamin C 0%
Calcium 2%
Iron 6%
Hot Cereal Instructions: Add 1/2 cup Muesli to 1/2 cup water or milk and bring to a boil. Simmer for 3 to 5 minutes. You can also microwave in a large bowl on high for 3 to 5 minutes stirring once during cooking. Makes 2 servings.
Cold Cereal Instructions: Soak 1/4 cup Muesli in 1/2 cup yogurt, milk or fruit juice for 5 to 10 minutes (or overnight like the Swiss do) and enjoy! Makes 1 serving..
Diets rich in whole grain foods and other plant foods low in total fat, saturated fat and cholesterol, may reduce the risk, of heart disease and some cancers.
Keeps best refrigerated or frozen
Free of preservatives and chemical additives.
Kosher.
Real time shoppers on site
stock running low.