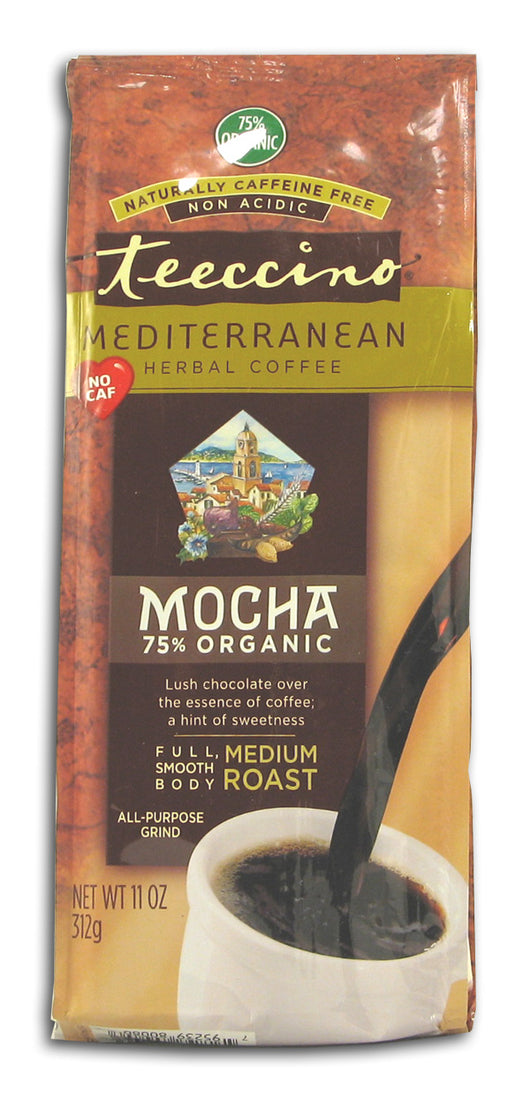 Mocha Herbal Coffee
Regular price $10.75 Sale
---
Limited Items Selling Fast
poup with stuff in it
close
---
Mocha Herbal Coffee
Mocha 75% Organic Mediterranean Herbal Coffee. Naturally Caffeine Free. Non Acidic. Lush chocolate over the essence of coffee; a hint of sweetness. Full, Smooth Body. Medium Roast. All-Purpose Grind. No Caf.
Healthy Pleasures with Teeccino: Now you can enjoy a steaming cup of deliciously rich, deep-roasted, fresh brewed flavor that delivers all the satisfaction without the caffeine and acidity of coffee! Teeccino (tea CHEE no) is a nutritious blend of Mediterranean herbs, grains, fruits, and nuts that are roasted and ground to brew and taste like coffee.
Every cup offers you many health benefits:
- Naturally caffeine-free -- no processing or chemical residues
- Non acidic -- helps restore alkaline balance
- Natural energy boost -- from nutrients, not stimulants
- Heart-healthy potassium and soluble fiber
- Prebiotic -- inulin from chicory root supports beneficial microflora that improve digestion, elimination, and intestinal health.
Enjoy Teeccino Many Ways: Tips for Coffee Drinkers: Blend Teeccino with coffee to make a robust brew with reduced caffeine and acidity. Or, drink Teeccino in the afternoon and evenings when you don't want coffee to interfere with sleep.
For a Delicious After-Dinner Dessert: Teeccino satisfies that after-dinner desire for a rich treat without so many calories. Add hot, frothed milk sprinkled with cinnamon or cocoa to make a festive cup. Enhance with a liqueur for gourmet pleasure!
Kids Love Teeccino, Too: A cup of Teeccino has far less sugar than hot cocoa, no stimulants, and it's nutritious!
Beyond Fair Trade: Creating New Trade! Most of Teeccino's ingredients are grown in Europe & the USA by first world farmers. We source organic chicory in India and wild-crafted ramon nuts in Guatemala, from small family farmers and rainforest villagers. These ingredients create new trade that provides more economic opportunities where income is scarce. By drinking Teeccino, you join us in supporting families devoted to organic, fair trade values in both first world & developing countries.
INGREDIENTS: Organic Carob, Organic Barley, Chicory, Organic Chicory, Organic Dates, Almonds, Natural Mocha Flavor, Organic Figs, Organic Cocoa Powder.
CONTAINS: Almonds.
Nutrition Facts
Serving Size: 1 Tbsp makes 10 fl. oz.
Servings Per Container: 31
Nutrient Amount %DV
Calories 20
Calories from Fat 0
Total Fat 0 g 0%
Saturated Fat 0 g 0%
Trans Fat 0 g
Cholesterol 0 mg 0%
Sodium 20 mg 1%
Potassium 65 mg 2%
Total Carbohydrate 4 g 1%
Dietary Fiber 1 g 4%
Sugars 1 g
Protein 0 g
Inulin 650 mg *
Caffeine 0 mg *
Vitamin A 0%
Vitamin C 0%
Calcium 0%
Iron 0%
*Daily Value not established.
Brew and Serve Just Like Coffee! Adjust brewing strength and add milk, non-dairy milk, & sweetener or drink black according to personal preference.
Drip Coffee Maker: Use 1 rounded Tbsp. per 2 cups of water.
Filter Cone: Use 1 rounded Tbsp. per 10 oz. water. (Permanent filters work best and save trees!)
French Press: Add 1-2 Tbsp. to '3-cup' pots, 3-4 Tbsp. to '8-cup' pots. Steep for 3 minutes.
Espresso Machine: Use double porta-filter and 1-2 rounded Tbsp. Brew according to machine instructions.
Iced Teeccino: Chill brewed Teeccino. Teeccino can last days when refrigerated! Or, make a strong brew by using 2 Tbsp. per 2 cups water and pour the hot brew over ice. Add cold milk or nondairy milk and sweeten to taste.
Kick the Caffeine Habit in 2 Weeks! Begin brewing 3/4 coffee to 1/4 Teeccino. Gradually decrease coffee and increase Teeccino until you are caffeine-free!
Brewed Teeccino is GLUTEN FREE as verified by independent laboratory tests.
Kosher Parve.
Real time shoppers on site
stock running low.