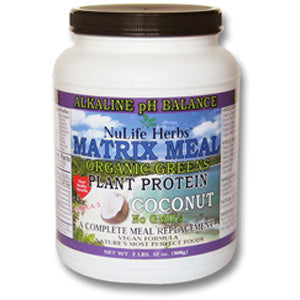 Matrix Meal Superfood Protein Shake
Regular price $53.99 Sale
---
Limited Items Selling Fast
poup with stuff in it
close
---
Matrix Meal Superfood Protein Shake
Matrix Meal Organic Raw Protein. Alkaline pH Balance. Formulated by a Master Herbalist. Heart Healthy Benefits. Fiber. Omega-3. A complete meal replacement. Vegan formula. Nature's most perfect foods.
Alkaline The pH -- Matrix Meal 4 Pack Alkaline Program: Matrix Meal Organic Raw Protein, Wheat Grass Formula 7, Maximum Metabolizer, Colonic Liver & Parasite Cleanse.
Amino Acids Profile, Essential: L-Histidine, L-Isoleucine, L-Leucine, L-Methionine, L-Phenylalanine, L-Threonine, L-Valine, L-Glutathione, L-Cystine. Non-Essential: L-Alanine, L-Arginine, L-Aspartate, L-Glutamine, L-Glycine, L-Lysine, L-Proline, L-Sarcosine, L-Serine.
Whole Grains: Proprietary Blend: 23,280 mg. Organic Brown Rice Protein (Non-GMO), Brown Rice X Blend, Organic Quinoa, Organic Buckwheat, Organic Golden Flax Seed Meal (Canada), Organic Millet, Organic Amaranth.
Whole Greens: Proprietary Blend: 1,590 mg. Wheat Grass Juice Powder, Barley Grass Juice Powder, Alfalfa Leaf Juice Powder, Organic Hemp Seed Protein Powder (100% Raw Certified), Spinach Leaf, Celery Seed, Beet Root Powder.
Whole Herbs: Proprietary Blend: 3,926 mg. Maca Peruvian Root Vegetable, Licorice Root, Cinnamon Bark Powder, Ginkgo Biloba Leaf, Yerba Mate, Damiana Leaf, Mexican Wild Yam Root, Mexican Sarsaparilla Root, Stevia (Whole Leaf), Orange Juice & Pineapple Puree Freeze-dried Powder
Sweetener: Proprietary Blend: 1,048 mg. Date Sugar (Dehydrated dates), Pure Honey Powder.
Cell Salts: Homeopathic Cell Salts. Proprietary Blend: 20 mg. Eleven essential cell salts is homeopathically processed to a 6x strength. Cell Salts are hydrolyzed with lactalbumin: Calcium Phosphate (Calcarea phosporica) 6x, Calcium Sulphate (Calcarea Sulfuricum) 6x, Potassium Phosphate (Kali phoporica) 6x, Potassium Chloride (Kali Muriaticum) 6x, Potassium Sulphate (Kali Sulfricum) 6x, Magnesium Phosphate (Magnesia Phosphorica) 6x, Iron Phosphate (Ferrum Phosphoricum) 6x, Sodium Chloride (Natrum Mariaticum) 6x, Sodium Sulphate (Natrum Sulfuricum) 6x, Sodium Phosphate (Natrum Phosphoricum) 6x, Silica (Silicic Oxide) 6x.
Only whole food herbs are used. No fillers, free of: Maltodextrin, Artificial Sweeteners, Preservatives, Flavors, MSG, Coloring, Animal Products, Dairy, Sugars, Fructose, Caffeine, Salt, Wheat, Yeast, Eggs, Whey or Soy Protein. No Hexane, Gluten, Lactose.
Supplement Facts
Serving Size: 2 scoops (30 grams)
Servings per Container: 30
Nutrient Amount %DV
Calories 120
Calories from Fat 25
Total Fat 3 g 5%
Saturated Fat 0 g 0%
Cholesterol 0 mg 0%
Sodium 5 mg 0%
Total Carbohydrate 14 g 5%
Dietary Fiber 3 g 12%
Sugars 0 g
Protein 12 g
Suggested use: Add 1 scoop of protein mix with an 8 oz. glass of distilled water, or rice milk, soy milk, almond milk, organic apple juice or favorite juice and mix in a blender, shaker, or glass. Add a banana, strawberries, cherries, or blueberries for a delicious Meal Replacement.
Take twice a day AM & PM! 1 scoop in the morning for breakfast and 1 scoop at dinner time before you eat. Take for 6 days and rest for 1 day. Do the same with the Wheatgrass 7, Maximum Metabolizer and Colonic Liver & Parasite Cleanse.
Note: This product does not contain refined processed sugar or fructose. It contains natural sweeteners.
After opening use within 2 months. To preserve freshness keep refrigerated.
Real time shoppers on site
stock running low.