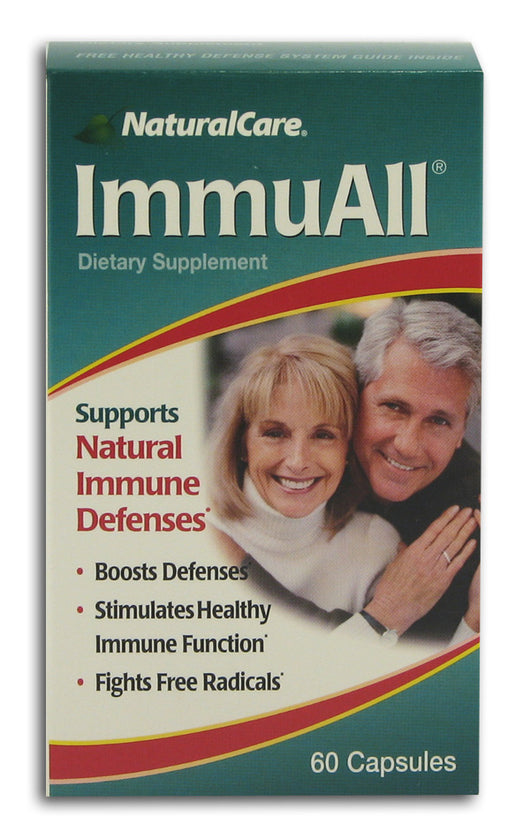 ImmuAll
Regular price $31.99 Sale
---
Limited Items Selling Fast
poup with stuff in it
close
---
ImmuAll
ImmuAll. Dietary Supplement. Supports Natural Immune Defenses. Boosts Defenses. Stimulates Healthy Immune Function. Fights Free Radicals.
The Human Immune System: The immune system is an extremely complex system -- of highly specialized cells and organs, and even a circulatory system separate from blood vessels -- which works around the clock in harmony with other major systems of the body to keep us healthy. The immune system is miraculous, and we must keep it strong to enjoy good health.
ImmuAll Contains the Highest Quality Nutrients for Immune Support. New research reveals that the powerful antioxidants and special nutrients in ImmuAll -- vitamins, minerals, and standardized phytonutrients -- neutralize free radicals that can challenge the immune system, and provide powerful micronutrients specifically for the body's natural defenses to help keep it strong and healthy.
Stimulate Healthy Immune Function! Don't wait until you are sick to try to help build your immune system. "An ounce of prevention is worth a pound of cure," Benjamin Franklin, 1736. If you want to stay well, do something about it! ImmuAll can boost and stimulate your immune defenses!
We live in a world where news of illness and outbreaks occur regularly worldwide; where non-communicable illnesses are increasing dramatically; and where the absence of "mironutrients" (minuscule nutrients that enable the body to produce enzymes, hormones and other substances essential for proper growth and development) are potentially a threat to our daily good health. Clearly, the body's natural immune defenses are a major concern today. Remember "An ounce of prevention is worth a pound of cure." Take ImmuAll today!
Supplement Facts
Serving Size: 2 Capsules
Servings Per Container: 30
Nutrient Amount %DV
Vitamin A (as mixed carotenoids from 10,000 IU 200%
Dunaliela 75%, as vitamin A acetate 25%)
Vitamin C (as ascorbic acid) 250 mg 417%
Vitamin E (as natural d-alpha tocopheryl succinate) 100 IU 333%
Zinc (as amino acid chelate) 15 mg 100%
Selenium (as Selenomethionine) 200 mcg 286%
L-Glutamine 100 mg *
Andrographis Leaf Extract (10% Andrographolides) 50 mg *
Green Tea Leaf Extract (60% Catechins) 50 mg *
N-Acetylcysteine 50 mg *
Quercetin 50 mg *
Alpha Lipoic Acid 15 mg *
Proprietary Immune Support Blend 125 mg *
Olive Leaf Extract (6% Oleuropein) *
Beta-1, 6-Glucan with Beta-1, 3-branches (from Maitake
Mushroom Mycelia Extract [Grifola frondosa]) *
Echinacea Angustifolia root and Purpurea leaf & flower
extract (4% phenolics) *
Turmeric root extract (95% Curcumin) *
Astragalus root extract (0.8 - 1% Isoflavones) *
Reishi Mushroom Mycelia (Ganoderm Lucidum) *
Shiitake Mushroom Mycelia Extract (Lentinula edodes) *
Garlic extract (bulb) (odor controlled) *
Beta-1, 3 D-Glucan (from yeast cell wall concentrate) *
(Saccharomyces cerevisiae)
*Daily Value not established.
OTHER INGREDIENTS: Gelatin, Glycerin, Titanium Dioxide (natural mineral capsule color).
Suggested Use: As a dietary supplement, adults take 2 capsules daily. For optimal benefits, take 2 capsules twice daily.
Double safety sealed for your protection and product freshness. Do not use if seals are missing or tampered with.
Made in USA.
Real time shoppers on site
stock running low.