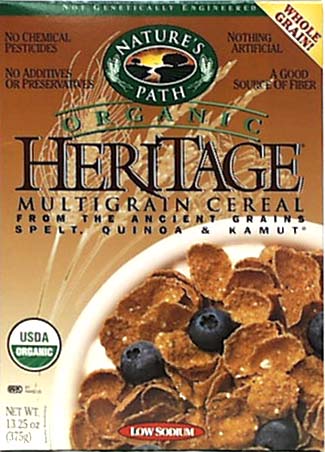 Heritage Flakes, Organic
Regular price $16.50 Sale
---
Limited Items Selling Fast
poup with stuff in it
close
---
Heritage Flakes, Organic
Our ancestors knew a delicious breakfast when they tasted it. For thousands of years they carefully selected the most tasty cereal grains and passed the seed down, generation to generation. Today, Nature's Path has blended the unique flavors of these ancient grains into a delightful, ready to eat cereal. We've named it "Heritage", because the heirloom cereals our ancestors relied on provide a critical genetic resource.
A good source of fiber. 3 grams of natural fiber per serving, and it tastes great!
Spelt. Simply sublime. A mealtime staple in Biblical times, spelt is a natural, non-hybrid grain that grown well without artificial fertilizers, pesticides or insecticides. Ideal for breads, pasta and cereals.
Kamut. Buttery rich. Kamut originated in the Fertile Crescent around 4,000 B.C. Think of it as an early member of the wheat family with a taste that hasn't been tampered with.
Millet. Toasty nutty. Some anthropologists believe this 8,000 year old grain was our first agricultural crop. Millet is one of the smallest of all cultivated grains and it thrives on land with little rainfall. One taste will tell you why millions of people say everyday: "mmmm..Millet!"
Quinoa. Delicately light. The people of the Andes called quinoa the 'Mother Grain'. With a naturally fluffy texture, it's an ancient flavor favorite people have savored for centuries.
Oats & Barley. Familiar friends. While the taste of these breakfast favorites need no introduction, you might not realize how ancient their roots go. We've added their 5,000+ year heritage to round off the rich blend of native and exotic taste you'll enjoy inside.
Organic sweeteners. Pure delight. To compliment our heritage grains, we've added the delicate taste of sweeteners which have been grown and processed organically.
INGREDIENTS: Organic Kamut Brand Wheat Flour, Organic Wheat Bran, Organic Evaporated Cane Juice, Organic Whole Oat Flour, Organic Whole Spelt Flour, Organic Wheat Meal, Organic Barley Flour, Organic Millet, Organic Barley Malt Extract, Organic Quinoa, Organic Honey, a trace of Sea Salt.
Nutrition Facts
Serving Size: 3/4 cup (30 g)
Servings per Container: About 12
Nutrient Amount % DV
Calories 115
Calories from Fat 0
Total Fat 0 g 0%
Saturated Fat 0 g 0%
Cholesterol 0 mg 0%
Sodium 100 mg 4%
Total Carbohydrate 24 g 8%
Dietary Fiber 3 g 12%
Sugars 3 g
Protein 4 g
Vitamin A 0%
Vitamin C 0%
Calcium 2%
Iron 7%
May contain traces of peanuts, tree nuts or soy.
Kosher Pareve
Real time shoppers on site
stock running low.