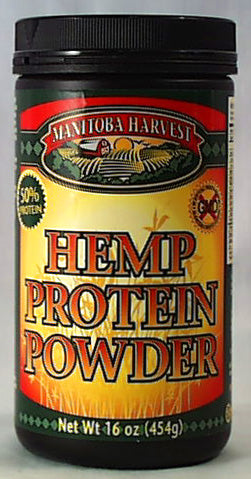 Hemp Protein Powder
Regular price $19.75 Sale
---
Limited Items Selling Fast
poup with stuff in it
close
---
Hemp Protein Powder
50% Protein.
Manitoba Harvest Hemp Protein Powder has a gourmet nutty flavor that tastes so good you can eat it straight from the jar. Use it to create delicious protein shakes, add it to juices, smoothies and green drinks.
Manitoba Harvest Hemp Protein Powder is a whole food protein powder. It is rich in complete protein, branch chain amino acids, Omega 6 & Omega 3 Essential Fatty Acids (EFAs) and healthy dietary fiber.
Manitoba Harvest Hemp Protein Powder is cold milled from live viable hemp seed that is grown sustainably without the use of herbicides or pesticides.
INGREDIENTS: 100% Raw, cold milled Hemp Protein Powder. Contains no additives or preservatives.
Nutrition Facts
Serving Size 2 scoops (30g)
Servings per Container 15
Nutrient Amount %DV
Calories 134
Calories from Fat 54
Total Fat 6 g 11%
Saturated Fat 0.6 g 1%
Trans Fat 0 g
Omega-3 Polyunsaturates 1.2 g
Omega-6 Polyunsaturates 3.3 g
Omega-9 Monounsaturates 0.9g
Cholesterol 0 mg 0%
Sodium 15 mg 1%
Total Carbohydrate 5g 2%
Dietary Fiber 4 g 16%
Sugar 1 g
Protein 15 g 30%
Vitamin A 0%
Vitamin C 1%
Calcium 0%
Iron 4%
Amino Acid Profile
Amino Acid Amount
Alanine 540 mg
Arginine* 1494 mg
Aspartic Acid 1240 mg
Cystine 204 mg
Glutamic Acid 2097 mg
Glycine 546 mg
Histidine* 342 mg
Isoleucine* 492 mg
Leucine* 828 mg
Methionine* 276 mg
Phenylalanine* 552 mg
Proline 510 mg
Serine 612 mg
Threonin* 417 mg
Tryptophan* 147 mg
Tyrosine 387 mg
Valine* 609 mg
*Essential Amino Acid
Suggested Use: 2-4 Scoops taken daily for life. Refrigerate after opening. Best consumed within 8 weeks after opening.
WK Kosher Pareve
Product of Canada
Real time shoppers on site
stock running low.