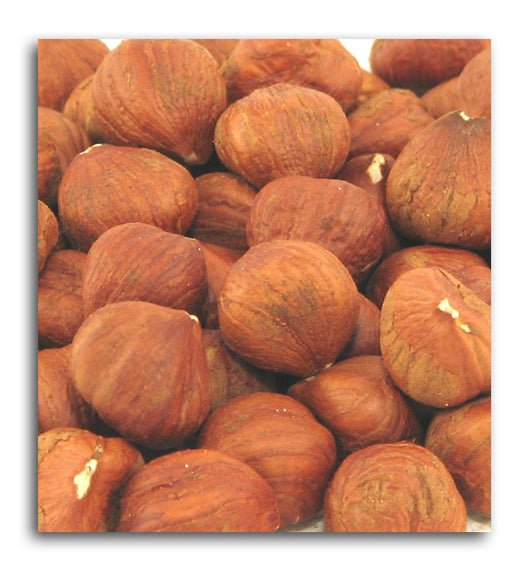 Hazelnuts, Raw Organic
Regular price $59.50 Sale
---
Limited Items Selling Fast
poup with stuff in it
close
---
Hazelnuts, Raw Organic
Hazelnuts are rich in protein, complex carbohydrates, dietary fiber, iron, calcium and vitamin E. They are very low in sodium and sugar. Hazelnuts, like other tree nuts, contain no cholesterol. Over 80% of the total fat in hazelnuts is monounsaturated.
Hazelnuts add unique flavor and texture to bakery, confectionery, cereal, dairy, salad, entree, sauce, and desert formulations. Most everything tastes better with hazelnuts.
INGREDIENTS: Organic Hazelnuts, Shelled.
Nutrition Facts
Serving Size: 1/4 cup (30 g)
Servings Per Container: About 30(for 2 lbs.); About 76 (for 5 lbs).
Nutrient Amount %DV
Calories 190
Calories from Fat 160
Total Fat 18 g 28%
Saturated Fat 1.5 g 7%
Trans Fat 0 g
Cholesterol 0 mg 0%
Sodium 0 mg 0%
Total Carbohydrate 5 g 2%
Dietary Fiber 3 g 12%
Sugars 1 g
Protein 4 g
Vitamin A 0%
Vitamin C 4%
Calcium 4%
Iron 8%
Natural hazelnuts with shell removed and brown skin intact. Dry roasting intensifies the flavor and adds a crisp texture.
Hazelnuts can be roasted using a conventional oven and a cookie sheet. The oven should be preheated to 275°. Place shelled natural hazelnuts on a non-greased cookie sheet only one layer high. Place in warm oven for 20 to 30 minutes until the skins crack and the nut meats turn a light golden color. You can also roast them at higher temperatures for a shorter period of time or microwave on full power for 3 to 4 minutes.
Roasting will loosen a considerable amount of the skin. If you want more of the skin removed, pour the nuts onto a clean terry-cloth towel and wrap it closed. Let the nuts steam for 4 to 5 minutes then rub vigorously for 1 to 3 minutes. Rub longer to remove more skin.
Storing shelled hazelnuts in an airtight bag or container in a freezer will keep them fresh and flavorful for a year or more. Storing hazelnuts in the refrigerator between 32° and 35° is the next best place, however, still keep in an airtight and odorless container. Nuts should be allowed to warm to room temperature before using in baking or cooking applications. Properly stored hazelnuts will provide wonderful flavor and texture to most any food, and can be used as a substitute in recipes that call for nuts.
Real time shoppers on site
stock running low.