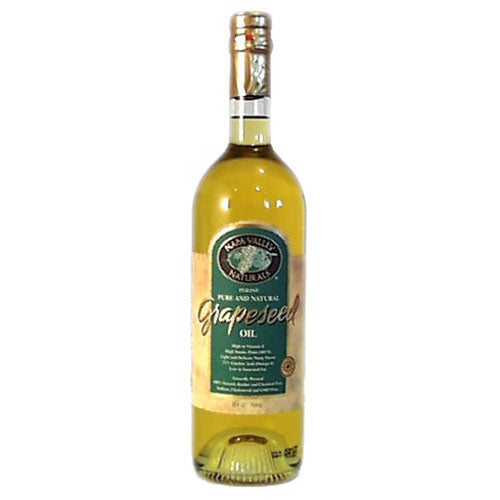 Grapeseed Oil
Regular price $10.75 Sale
---
Limited Items Selling Fast
poup with stuff in it
close
---
Italian Grapeseed Oil
Napa Valley grapeseed oil is a delicious salad oil and the ultimate everyday cooking oil. It contains no cholesterol, no sodium, and is low in saturated fat. It is an excellent source of antioxidant Vitamin E, and is 75% essential linoleic acid, also known as Omega 6. This is an ecologically sound product, made from grapeseeds after the wine pressing. Premier European chefs have been using grapeseed oil for centuries for its unique qualities. Its light flavor brings out the flavor of food. Its high smoke point (485 degrees F) lets you saute, fry or bake without smoking, splattering or burning. It makes delicious light salad dressings that will not cloud when chilled, and it is a tasty substitute for butter, margarine and other saturated fats.
INGREDIENTS: Grapeseed Oil.
Nutrition Facts
Serving Size: 1 Tbsp
Nutrient Amount per Serving %DV
Calories 120
Calories from Fat 120
Total Fat 14 g 21%
Saturated Fat 10 g 5%
Polyunsaturated Fat 10 g
Monounsaturated Fat 3 g
Cholesterol 0 g 0%
Sodium 0 mg 0%
Total Carbohydrate 0 g 0%
Protein 0 g
Vitamin E 14 IU 46%
Real time shoppers on site
stock running low.