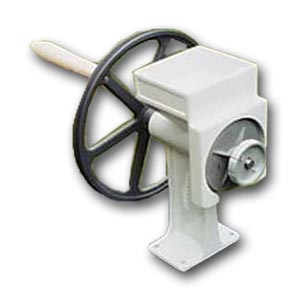 GRAIN MILL
Regular price $609.99 Sale
---
Limited Items Selling Fast
poup with stuff in it
close
---
GRAIN MILL
Finely engineered - twenty-year warranty on the body, hand-powered, hand cast classic solid metal body with a beautiful and super tough powder coated finish, heavy steel shaft, and double-sealed industrial ball-bearings. Requires 30% less torque than even the highly rated Diamont hand mill from Denmark. Goes through 21 precision machining processes before completion, cast-iron fly wheel for easy turning and smooth flow of flour, large hopper holds 2 pounds of wheat. Easily converted to electricity (without an adaptor) with an A-belt and an old washing machine motor or to physical fitness with an exercycle and a V-belt.
With a slight twist of a knob, the Country Living Grain Mill will produce pastry-perfect fine whole wheat flour, with another twist, medium, on up to coarse-ground or cracked wheat. Settings stay in place with its self-locking adjustment.
In addition to wheat, the mill will successfully grind corn, beans, peas, lentils, rye, rice, barley, millet, buckwheat, triticale, amaranth, popcorn, all dry grains, and even shell sunflower seeds (depending on dryness and variety of sunflower seeds). In tests run, 7 1/2 cups of bread flour ground in 13 minutes compared to barely a cup in the same amount of time by electric mills using a so-called emergency handle.
Can be bolted down to a table or counter top or secured with C-clamps. A downright rugged basic tool for providing a real measure of self-sufficiency in times of need and crisis. Weighs only 15 lbs and totally portable. High carbon steel grinding plates.
Real time shoppers on site
stock running low.