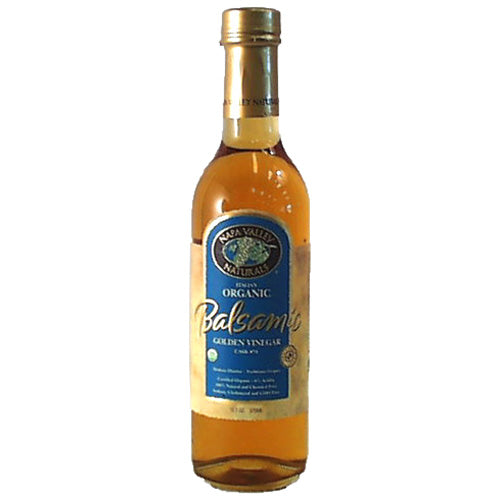 Golden Balsamic Vinegar, Organic
---
Limited Items Selling Fast
poup with stuff in it
close
---
Golden Balsamic Vinegar, Organic
Balsamic Vinegar's popularity is skyrocketing in the United States. Yet, all too often when you think you are buying an authentic product, you are probably ending up with an impostor. Today, most Golden Balsamic Vinegar consists simply of sugar, and low-grade vinegar that is boiled and stored in stainless steel tanks for less than one year. At Napa Valley Naturals our authentic Golden Balsamic Vinegar (Aceto Balsamico Naturale) from the Modena District in central Italy is pure, fresh and fruity with a delicately balanced aroma similar to Chardonnay. This is a fresh, full bodied, zesty vinegar that is light in flavor and won't discolor food. Produced from Trebbiano Grapes picked late in the season at the peak of residual sugar, this is a fresher, sweeter product than our Black Balsamic Vinegar. It is ideal for pouring over salads, tomatoes, and fresh Mozzarella Cheese. You can also use it to marinate poultry and game, or to produce a reductions glaze for delicately flavored fish dishes. It is 100% natural and pressed from fresh, hand-picked, vine ripened Trebbiano grapes. 1800 cases of "Cask 74 Blanco Balsamico" have been aged to perfection. I think you'll like it a lot.
INGREDIENTS: Organic Grape Must, Organic Wine Vinegar.
Nutrition Facts
Serving Size 1 Tbsp. (14 g)
Servings 25
Nutrient Amount %DV
Calories 10
Calories from Fat 0
Total Fat 0 g 0%
Sodium 0 mg 0%
Total Carbohydrate 2 g 1%
Protein 0 g 0%
Iron 4%
Real time shoppers on site
stock running low.