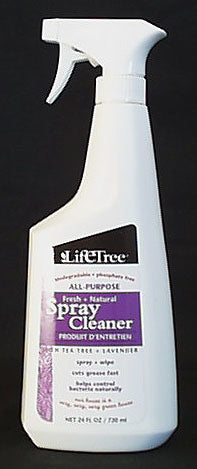 Fresh Natural Spray Cleaner
---
Limited Items Selling Fast
poup with stuff in it
close
---
Fresh Natural Spray Cleaner
This fresh and natural all-purpose cleaner cuts grease fast. Formulated with Australian Tea Tree and French Lavender which deodorize and help prevent bacterial growth. These essential oils are blended with environmentally safe water softening agents and vegetable derived cleaning agents to produce our All-purpose Spray Cleaner. Contains no petroleum based ingredients, no preservatives, and no artificial colors or fragrances.
INGREDIENTS: A blend of purified water, sodium carbonate, sodium citrate, tall oil fatty acid, linear alcohol ethoxyleate, alkyl polyglycoside, French lavender oil, (Lavendula stoechas), and Australian tea tree oil (Melaleuca alternifolia.)
100% biodegradable.
Environmentally Safe: This product has been formulated to biodegrade quickly and completely. It contains no phosphates or other environmentally harmful ingredients.
Cruelty Free: No animal testing or ingredients
Quickly and easily removes stains, grease, and grime on most washable surfaces around your house. Just spray and wipe, no rinsing needed. In the kitchen and household - refrigerators, countertops, stoves, walls, floors, doors, cabinets, woodwork. In the Bathroom - Showers, tubs, sinks, toilets and floors. (Note: Not recommended for use on aluminum or varnished surfaces.)
DIRECTIONS: Turn nozzle to "spray" or "stream" position. Hold sprayer 6-8 inches from soiled surface, spray area and wipe with lint free cloth or paper towel. After use, turn nozzle to "off" position.
Caution: Eye irritant. In case of eye contact, flush well with water. Call a physician. Keep out of reach of children.
Made in USA.
Real time shoppers on site
stock running low.