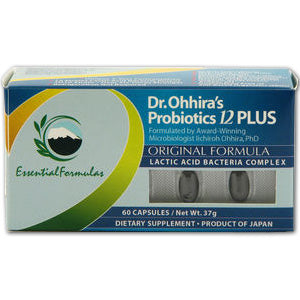 Dr. Ohhira's Probiotics 12 Plus
Regular price $58.99 Sale
---
Limited Items Selling Fast
poup with stuff in it
close
---
Dr. Ohhira's Probiotics 12 Plus
Dr. Ohhira's ProBiotics 12 Plus - Original Formula, lactic acid bacteria complex. Formulated by award-winning microbiologist Iichiroh Ohhira, PhD.
Recommended for infants, children, pregnant of nursing mothers, the elderly and those with compromised immune systems.
Unique 3-year fermentation. 12 strains lactic acid bacteria potent TH10 Strain - over six times stronger. Refrigeration not required.
Vegan ingredients. Non-dairy. Non-GMO. Hypoallergenic. Includes Original Culture Medium (36 Micronutrients). Enteric Coated Capsules. Natural Prebiotics (FOS). Organic Acids Insure Proper pH. Guaranteed Free of Soil-Based Organisms (SBOs).
Probiotics: Science Perfects an Ancient Remedy.
Good health depends on the number and strains of bacteria living in digestive tracts. Ideally, 85 percent of the approximate four pounds of resident bacteria in the colon should be beneficial strains. When useful strains are reduced to less than 85 percent, an imbalance or dysbiosis occurs.
The causes of dysbiosis are many - antibiotics (even those second-hand antibiotics found in meat, poultry and dairy), oral contraceptives and steroids, unhealthy diet, radiation, chlorinated water, refined sugars, poor digestion, failure to properly eliminate waste, unmanaged stress and even fiber or natural remedies used to manage colds, flu, Candida, etc.
Dr. Ohhira's Probiotics 12 Plus rebalances the body's delicate micro flora, enhances immunity and supports healthy bowel movements. These beneficial bacteria, proven to adhere in the colon, eliminate toxic digestive byproducts, support the lining of the GI tract (essential for nutrient absorption) and maintain optimal pH of the colon by making organic acids. Each capsule contains a unique biologically-active fermented paste - the achievement of decades of award-winning scientific research by Japanese microbiologists.
Dr. Ohhira's Probiotics 12 Plus - a New Kind of Probiotics
Dr. Ohhira's product contains 12 strains of lactic acid bacteria including the potent TH10. They are grown in a natural non-dairy medium that produces 10 vitamins, 8 minerals and 18 amino acids. The nutrients are in bacteria-sized doses so they can safely be added to any supplement program. Four organic acids, fructooligosaccharides (FOS), bacteriocins and enzymes develop during the natural temperature fermentation process. The enteric coated capsule ensures delivery of the capsule's contents to the colon without the need for preservatives or additives. Stable at room temperature.
Supplement Facts
Serving size: 1 capsule (capsule ingredient weight is 0.433 g.)
Servings per container: 60
Nutrient Amount %DV
(Vitamins, minerals and amino acids are trace amounts; values are shown as mg/capsule).
Vitamins
Biotin 0.0000467 mg <1%
Carotene 0.0001299 mg
Folic Acid 0.0000173 mg <1%
Inositol 0.2121700 mg
Niacin 0.0033774 mg <1%
Pantothenic Acid 0.0034640 mg <1%
Riboflavin 0.0012990 mg <1%
Thiamin 0.0001732 mg <1%
Vitamin B6 0.0003723 mg <1%
Vitamin B12 0.0000009 mg <1%
Minerals
Calcium 0.7620800 mg <1%
Iron 0.0198747 mg <1%
Magnesium 0.0001931 mg <1%
Manganese 1.1387900 mg 23%
Phosphorus 0.7490900 mg <1%
Potassium 2.3295400 mg <1%
Sodium 1.4592100 mg <1%
Zinc 0.0029270 mg <1%
Amino Acids
Alanine 0.0013423 mg
Arginine 0.0010825 mg
Aspartic Acid 0.0037671 mg
Cystine 0.0003464 mg
Glutamic Acid 0.0070579 mg
Glycine 0.0009959 mg
Histidine 0.0009526 mg
Isoleucine 0.0016887 mg
Leucine 0.0030743 mg
Lysine 0.0014722 mg
Methionine 0.0006062 mg
Phenylalanine 0.0016454 mg
Proline 0.0029011 mg
Serine 0.0018619 mg
Thereonine 0.0015155 mg
Tryptophan 0.0003897 mg
Tyrosine 0.0009526 mg
Valine 0.0020351 mg
Lactic Acid Bacteria Strains (CFU equal to 1.3 billion/g)
Bifidobacterium Breve ss. Breve
Bifidobacterium Infantis ss. Infantis
Bifidobacterium Longum
Enterococcus Faecalis TH10
Lactobacillus Acidophilus
Lactobacillus Brevis
Lactobacillus Bulgaricus
Lactobacillus Casei ss. Casei
Lactobacillus Fermentum
Lactobacillus Helveticus ss. Jagurti
Lactobacillus Plantarum
Streptococcus Thermophilus
(Actual levels of vitamins, minerals and amino acids may vary slightly among batches due to natural variations of ingredients.)
OTHER INGREDIENTS: Lychium Chinese, Vitis Coignetiae, Myrica Rubra, Laminaria Japonica, Morus Australis, Rubus Buergeri, Elaeagnus Montana, Hizikia Fusiforme, Aritemisia Montana, Plantago Asiatica, Mountain Spring Water.
Suggested use: Loading dose for first 60 capsules (i.e., 5 caps in morning and 5 caps at bedtime. Best taken on an empty stomach with water). Thereafter, 2 to 4 caps per day, half in morning and half at bedtime. Children under age 6 - one capsule daily. Excessive consumption may have a mild laxative effect.
The product is 100 percent natural and totally vegetarian. Free of chemicals, chemical fertilizers, pesticides, herbicides, preservatives, artificial additives, coloring agents or animal by-products.
Product of Japan.
Real time shoppers on site
stock running low.