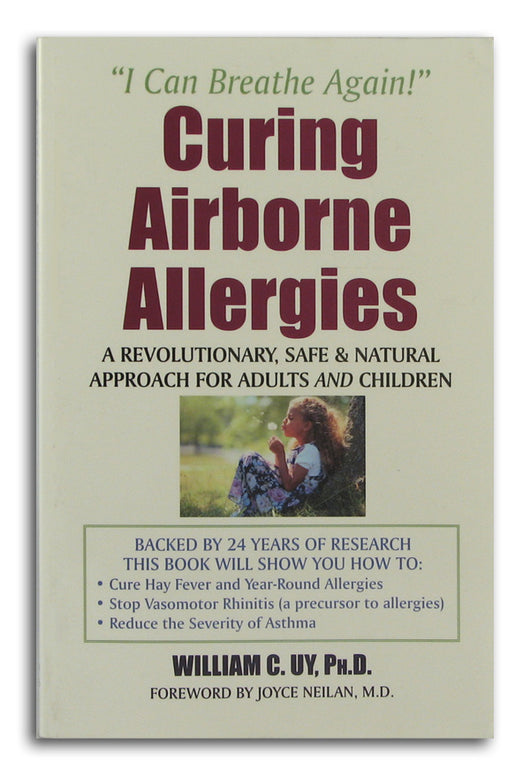 Curing Airborne Allergies
Regular price $14.99 Sale
---
Limited Items Selling Fast
poup with stuff in it
close
---
Curing Airborne Allergies
Curing Airborne Allergies, by William C. Uy, Ph.D. "I Can Breathe Again!" A Revolutionary, Safe & Natural Approach for Adults and Children. Backed by 24 years of research this book will show you how to:
- Cure Hay Fever and Year-Round Allergies
- Stop Vasomotor Rhinitis (a precursor to allergies)
- Reduce the Severity of Asthma
A True Cure for Hay Fever without Medications. "A well-researched book, Comprehensive." ~Emilio R. Valdes, M.D., Allergist
Curing Airborne Allergies describes:
- Why most popular theories of hay fever and allergy miss the point.
- How increased sleep and decreased caffeine can eliminate allergic symptoms.
- Why allergy shots and other medications are often ineffective.
- How to intercept an allergy attack before it knocks you out.
- How others have gained immediate relief and long-term cure with this simple method.
"After reading Dr. Uy's book and following his recommendations, I am breathing freely after suffering with sinus and allergy symptoms for twenty years." ~ C. R. Covelli, Pennsylvania
"Following Dr. Uy's suggestions I can usually have an allergy-free day." ~ D. Green-Kocker, Delaware.
About the Author: William C. Uy, Ph.D. has worked as a senior research scientist for the past thirty-one years, and holds patents to sixteen inventions. He is the author of over fifty scientific reports, including over thirty-five publications. Driven by the miseries of his own hay fever, he searched for relief that led him to the breakthrough discoveries -- including the underlying causes and a true cure for allergies and rhinitis.
Real time shoppers on site
stock running low.