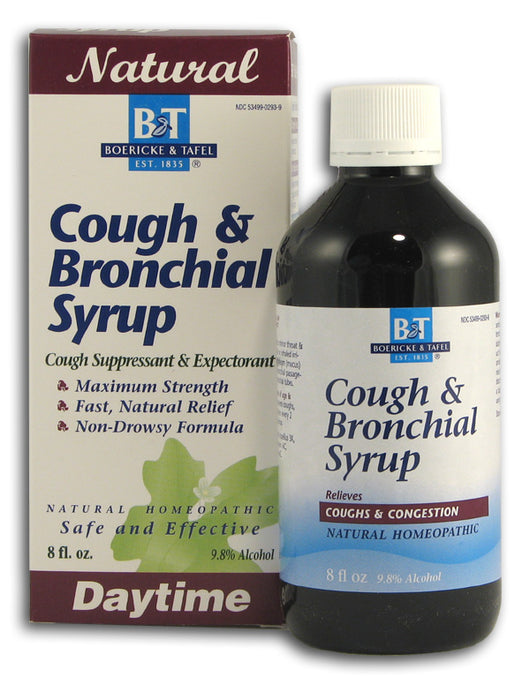 Cough & Bronchial Syrup
Regular price $18.99 Sale
---
Limited Items Selling Fast
poup with stuff in it
close
---
Cough & Bronchial Syrup
Natural Cough & Bronchial Syrup, Daytime. Cough Suppressant and Expectorant. Maximum Strength. Fast, Natural Relief. Non-Drowsy Formula. Natural Homeopathic. Safe and Effective. 9.8% Alcohol.
No artificial coloring or flavors. Non-narcotic. Relieves coughs due to colds or inhaled irritants. Soothes the throat. Helps clear bronchial congestion.
ACTIVE INGREDIENTS: Aconitum napellus 3X, Bryonia alba 3X, Hepar sulphuris calcareum 6C, Spongia tosta 3X, Stannum metallicum 6C. Contains sugar.
For your protection, this bottle has a cap with a perforated ring attached. Do not use if the ring is broken or missing.
Uses: Temporarily relieves coughs due to minor throat and bronchial irritation occurring with a cold or inhaled irritants. Soothes the throat. Helps loosen phlegm (mucus) and thin bronchial secretions to rid the bronchial passageways of bothersome mucus and drain bronchial tubes.
Directions: Adults and children 12 years of age and older: 2 teaspoons every 2 hours. For severe coughs, repeat every 20 minutes for first hour, then every 2 hours. Children under 12: Consult a doctor.
Warnings: A persistent cough may be a sign of a serious condition. If cough persists for more than 1 week, tends to recur, or is accompanied by fever, rash, or persistent headache, consult a doctor. Do not take this product for persistent or chronic cough such as occurs with smoking, asthma, emphysema, or if cough is accompanied by excessive phlegm (mucus) unless directed by a doctor. As with any drug, if you are pregnant or nursing a baby, seek the advice of a health professional before using this product. Keep out of the reach of children.
Store at room temperature out of direct sunlight.
Made in Mexico.
Real time shoppers on site
stock running low.