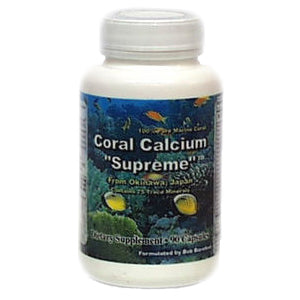 Coral Calcium Supreme
Regular price $19.50 Sale
---
Limited Items Selling Fast
poup with stuff in it
close
---
Coral Calcium Supreme
Coral Calcium Supreme is of the highest grade "marine coral" available, combined with the power of vitamin B1, B2, B3, B5, B6, B12 and 400 mcg of folates. The calcium to magnesium ratio is a biologically perfect 2:1 and contains 75 trace minerals. This coral was collected with ecologic safety. Coral calcium is an amazing natural element and is prescribed by many doctors in many countries.
Supplement Facts
Serving Size: 3 capsules
Servings per Container: 30
Nutrient Amount % DV
Vitamin A (as Beta Carotene) 2917 IU 58%
Vitamin C (as Ascorbic Acid) 70 mg 117%
Vitamin D (as Cholecalciferol) 816 IU 204%
Vitamin E (as D-Alpha Tocopherol) 35 IU 117%
Vitamin B1 (as Thiamin HCl) 1.1 mg 73%
Vitamin B2 (as Riboflavin Powder) 1.2 mg 71%
Vitamin B3 (as Niacinamide) 14 mg 70%
Vitamin B6 (as Pyridoxine) 1.4 mg 70%
Folic Acid 400 mcg 100%
Vitamin B12 (as Cyanocobalamin) 4.3 mcg 72%
Vitamin B5 (as Di-Calcium Pantothenate) 7 mg 70%
Calcium (from Coral Calcium) 250 mg 25%
Calcium (from Aquamin) 95 mg 10%
Iodine (Kelp) 150 mcg 100%
Magnesium (from Coral Calcium) 125 mg 31%
Magnesium (as Magnesium Citrate) 58 mg 15%
Zinc (as Amino Acid Chelate) 16.4 mg 109%
Selenium (as Amino Acid Chelate) 30 mcg 43%
Copper (as Amino Acid Chelate) 2.4 mg 120%
Manganese (as Amino Acid Chelate) 1.44 mg 72%
Chromium (as Amino Acid Chelate) 86 mcg 72%
Coral Calcium 1000 mg
Cesium 3 mg
Strontium (from Coral Calcium) 2.8 mg
Boron (as Amino Acid Chelate) 64 mcg
OTHER INGREDIENTS: Gelatin, Magnesium Stearate, Microcrystalline Cellulose, Silicon Dioxide, Titanium Dioxide, Water.
Suggested use: Three capsules daily (preferably 1 capsule to be taken three times per day at regular intervals with meals).
If you are ill consult with your physician.
Real time shoppers on site
stock running low.