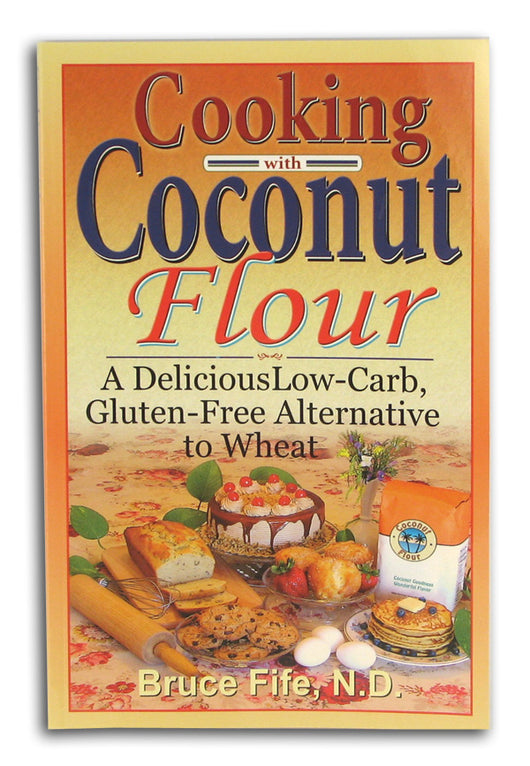 Cooking With Coconut Flour
Regular price $13.99 Sale
---
Limited Items Selling Fast
poup with stuff in it
close
---
Cooking With Coconut Flour
Cooking with Coconut Flour -- A delicious Low-Carb, Gluten-Free Alternative to Wheat.
Do you love breads, cakes, pies, cookies, and other wheat products but can't eat them because you are allergic to wheat or sensitive to gluten? Perhaps you avoid wheat because you are concerned about your weight and need to cut down on carbohydrates. If so, the solution for you is coconut flour. Coconut flour is a delicious, healthy alternative to wheat. It is high in fiber, low in digestible carbohydrate, and a good source of protein. It contains no gluten so it is ideal for those with celiac disease.
Coconut flour can be used to make a variety of delicious baked goods, snacks, desserts, and main dishes. It is the only flour used in most of the recipes in this book. These recipes are so delicious that you won't be able to tell that they aren't made with wheat. If you like foods such as German chocolate cake, apple pie, blueberry muffins, cheese crackers, and chicken pot pie, but don't want the wheat; you will love the recipes in this book!
These recipes are designed with your health in mind. Every recipe is completely free of wheat, gluten, soy, trans fats, and artificial sweeteners. Coconut is naturally low in carbohydrate and recipes include both regular and reduced sugar versions. Coconut flour provides many health benefits. It can improve digestion, help regulate blood sugar, protect against diabetes, help prevent heart disease and cancer, and aid in weight loss.
Book includes a resources list and an index.
Softcover. 160 pages
Real time shoppers on site
stock running low.