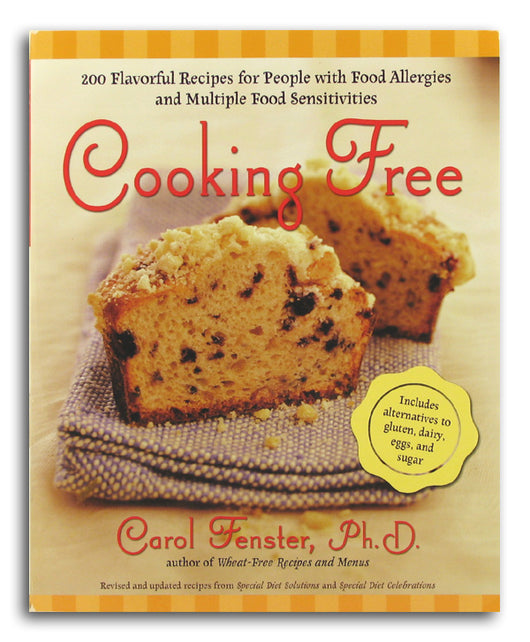 Cooking Free, by Carol Fenster
Regular price $21.99 Sale
---
Limited Items Selling Fast
poup with stuff in it
close
---
Cooking Free, by Carol Fenster
Cooking Free, by Carol Fenster, Ph.D., author of Wheat-Free Recipes and Menus. 200 Flavorful Recipes for People with Food Allergies and Multiple Food Sensitivities. Revised and updated recipes from Special Diet Solutions and Special Diet Celebrations. Includes alternatives to gluten, dairy, eggs, and sugar.
Enjoy Your Favorite Recipes with Creative and Delicious Alternatives to Gluten, Dairy, Eggs, and Sugar.
Does wheat sensitivity keep you from eating hearty breads or does lactose intolerance mean the end of ice cream? Not anymore! Cooking expert Carol Fenster has spent years developing recipes free of the food allergens that wreak havoc on your health but full of the flavors you love.
Because so many of the 11 million Americans with food allergies have sensitivities to more than just one food, Fenster has created dishes that do not use four of the most common allergens -- gluten, dairy, eggs, and sugar. The result: one book full of delicious recipes for you and your entire family, even with a variety of individual dietary needs.
Complete with tips for cooking without traditional ingredients and conversion tables that will show you how to substitute alternative ingredients in your own recipes, this book can help keep you healthy while allowing you to indulge in delectable breads, main dishes, and desserts.
"Carol Fenster makes cooking for persons with multiple food sensitivities a breeze with easy recipes filled with taste." ~ Cynthia Kupper, R.D., C.D., Executive Director, Gluten Intolerance Group of North America
About the Author: Carol Fenster, Ph.D., the founder of Savory Palate, Inc., a resource for people with food allergies, celiac disease, autism, and other medical conditions that require a particular diet, has written five special diet cookbooks. A consultant to health professionals, manufacturers, natural-food stores, and associations serving those with special diets, she has been featured in Woman's World, Natural Health, and Vegetarian Times. She lives in Colorado.
Softbound. 322 pages, includes index.
Real time shoppers on site
stock running low.