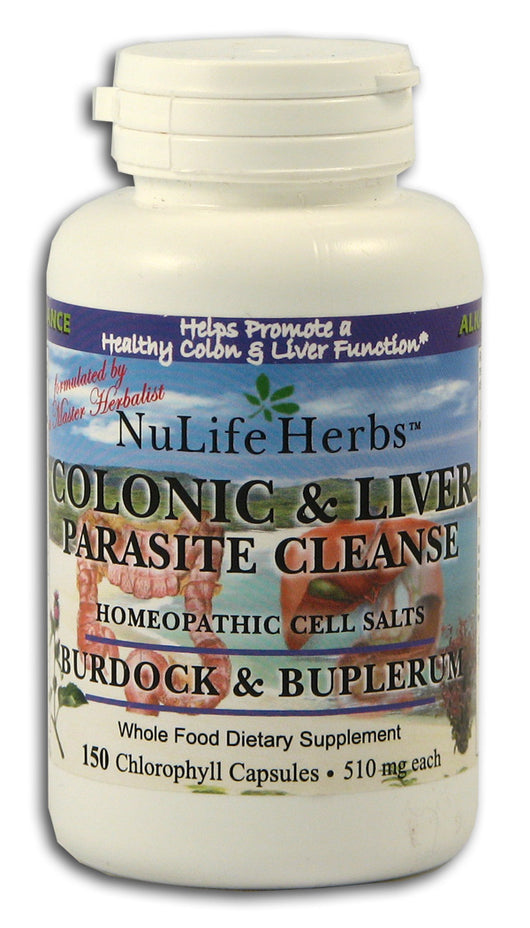 Colonic & Liver Cleanze
Regular price $22.75 Sale
---
Limited Items Selling Fast
poup with stuff in it
close
---
Colonic & Liver Cleanze
Colonic & Liver Parasite Cleanse. Homeopathic cell salts. Burdock & Buplerum. Whole Food Dietary Supplement. Formulated by a master herbalist. 150 chlorophyll capsules. 510 mg each. Helps promote a healthy colon and liver function. Alkaline pH Balance.
Supplement Facts
Serving Size: 2 capsules (1020 mg)
Servings per Container: 75
Nutrient Amount
Proprietary Blend 1000 mg
Buplerum, Burdock Root, Sheep Sorrel, Turkey Rhubarb, Dandelion Root, Red Clover Blossoms, Wormwood, Black Walnut Leaf, Licorice Root, Slippery Elm Bark, Milk Thistle, Ginger Root, Cloves, Cayenne Fruit, Garlic, Lobelia, Turmeric.
Cell Salt/Redman Blend 20 mg
Calcium Phosphate, Calcium Sulfate, Potassium Phosphate, Potassium Chloride, Potassium Sulfate, Magnesium Phosphate, Sodium Phosphate, Sodium Sulfate, Sodium Chloride, 77 Trace Minerals.
OTHER INGREDIENTS: Gelatin, Chlorophyll.
Recommended Dosage: For maximum results, take 3-4 capsules twice daily with distilled water. More if desired. Only whole food herbs are used. Proper diet & exercise are also recommended. For best results use for 30 days.
Real time shoppers on site
stock running low.