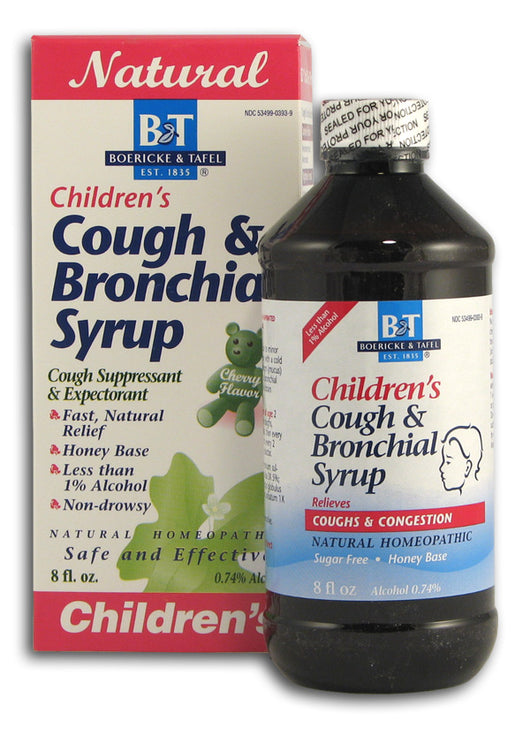 Children's Cough & Bronchial Syrup
Regular price $16.99 Sale
---
Limited Items Selling Fast
poup with stuff in it
close
---
Children's Cough & Bronchial Syrup
Children's Natural Cough & Bronchial Syrup. Cough Suppressant and Expectorant. Fast, Natural Relief. Honey Base. Non-drowsy. Natural Homeopathic. Safe and Effective. Less than 1% Alcohol.
Children's Cough and Bronchial Syrup, Ideal for Children! Honey base. No artificial coloring or flavoring. Non-narcotic. Less than 1% alcohol. Natural cherry flavor. Relieves coughs due to colds or inhaled irritants. Helps clear bronchial congestion. Soothes irritated throat.
ACTIVE INGREDIENTS (HPUS): Antimonium sulphuratum aureum 6X 5%, Bryonia alba 3X 5%, Drosera rotundifolia 3X 5%, Eucalyptus globulus 3X 5%, Ipecacuanha 4X 5%, Illicium anisatum 1X 0.75%. Contains honey.
For your protection, this bottle has an imprinted seal around the neck. Do not use if seal is broken or missing.
Uses: Temporarily relieves coughs due to minor throat and bronchial irritation occurring with a cold or inhaled irritants. Helps loosen phlegm (mucus) and thin bronchial secretions to rid the bronchial passageways of bothersome mucus and drain bronchial tubes.
Directions: Children 6 to 12 years of age: 2 teaspoons every 2 hours. For severe coughs, repeat every 20 minutes for first hour, then every 2 hours. Children 2 to 5: 1 teaspoon every 2 hours. Children under 2: Consult a doctor.
Warnings: A persistent cough may be a sign of a serious condition. If cough persists for more than 1 week, tends to recur, or is accompanied by fever, rash, or persistent headache, consult a doctor. Do not take this product for persistent or chronic cough such as occurs with asthma, or if cough is accompanied by excessive phlegm (mucus) unless directed by a doctor. Keep out of the reach of children.
Store at room temperature out of direct sunlight.
Made in Mexico.
Real time shoppers on site
stock running low.