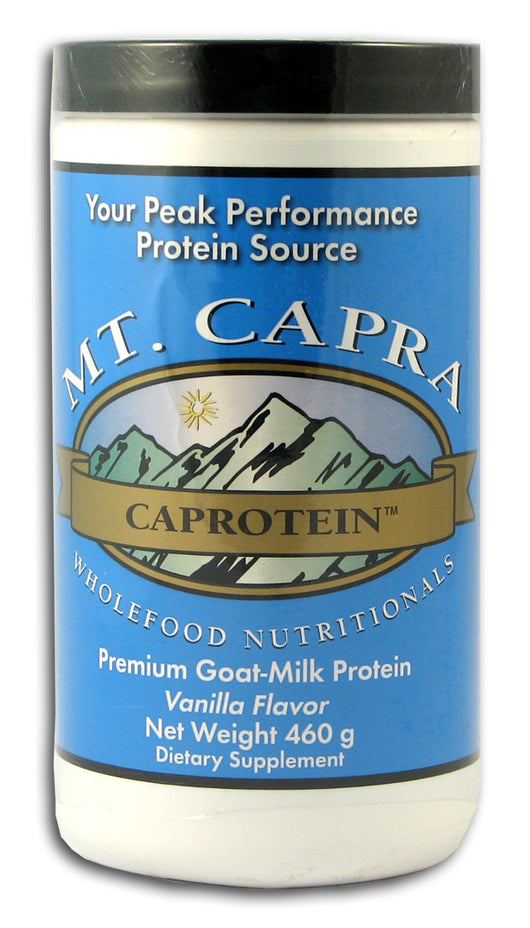 Caprotein
Regular price $46.75 Sale
---
Limited Items Selling Fast
poup with stuff in it
close
---
Caprotein
Mt. Capra Caprotein. Premium Goat-Milk Protein. Vanilla Flavor. Your Peak Performance Protein Source.
Caprotein is a premium quality goat-milk protein powder. It is minimally processed by Mt. Capra from goat milk collected from our own farms to preserve it's original composition. Most other milk protein powders are made from cow milk and use several harsh processing steps including heating at high temperatures. Mt. Capra goats are free range and are not fed pesticides, herbicides, growth hormones or antibiotics.
Caprotein contains all of the essential amino acids for optimal health and is tolerated well by most people. Caprotein is partially predigested (lacto-fermented). This process assists digestion and absorption while providing the body with beneficial probiotics and enzymes.
INGREDIENTS: Goat-Milk Protein, Fermented Goat-Milk Protein, Vanilla Flavor, Probiotic Cultures.
Supplement Facts
Serving Size: 20 g (Approx. 2 level Tbsp.)
Servings Per Container: 23
Nutrient Amount %DV
Calories 74
Calories from Fat 14 g
Total Fat 1 g 2%
Saturated Fat <1 g 2%
Cholesterol 10 mg 3%
Sodium 13 mg 3%
Total Carbohydrate 4 g 1%
Dietary Fiber 0 g 0%
Sugar 2 g
Protein 15 g 30%
Calcium 140 mg 14%
Alanine 226 mg
Arginine 256 mg
Aspartic Acid 606 mg
Cystine/2 21 mg
Glutamic Acid 1848 mg
Glycine 122 mg
Histidine 250 mg
Isoleucine* 392 mg
Leucine* 830 mg
Lysine* 634 mg
Methionine* 230 mg
Phenylalanine* 436 mg
Proline 938 mg
Serine* 440 mg
Threonine 424 mg
Tryptophan* 49 mg
Tyrosine 342 mg
Valine* 632 mg
*Essential Amino Acids
Suggested Directions: Take one level tablespoon twice a day with 8 oz. of water, juice or your favorite non-carbonated beverage. Blend or shake vigorously. Try adding Caprotein to your smoothies, yogurt, hot cereals, etc... Great for children!
Caution: All dietary supplements should be used responsibly. Please consult your healthcare provider if you intend to use this product and you are pregnant, nursing or under medical supervision.
While it is not necessary to refrigerate this product, please store in a cool, dry place. There may be some settling in this container during shipping.
No chemical or preservatives added.
Product of the USA.
Real time shoppers on site
stock running low.