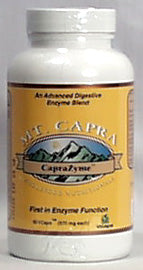 CapraZyme
Regular price $39.75 Sale
---
Limited Items Selling Fast
poup with stuff in it
close
---
CapraZyme
Mt. Capra Wholefood Nutritionals CapraZyme. An Advanced Digestive Enzyme Blend. First in Enzyme Function. Plant Enzyme Formula.
Supplement Facts
Serving Size: 1 Capsule
Servings Per Container: 90
Nutrient Amount
Proprietary Plant Enzyme Blend 354 mg
Lipase AN 2,042 FCCLU
Amylase 13615 DU
Protease 4.5 20423 HUT
Alpha-galactosidase 298 GaIU
Protease 6.0 10892 HUT
Glucoamylase 18 AGU
Protease 3.0 13 SAPU
Xylanase 340 XU
Pectinase 10 endo-PG
Peptidase 1362 HUT
Cellulase 408 CU
Lactase 511 ALU
Bromelain 136154 FCCPU
Neutral Bacterial Protease 2723 PC
CereCalase 68 MU
Papain 170192 FCCPU
Malt Diastase 114 DP
Invertase 38 SU
Bioactive Botanical Blend* 221 mg
Grapefruit Whole Fruit Powder, L-Glutamine, Organic Barley Grass Juice Powder, Ginger Root Powder, Organic Barley Grass Whole Leaf Powder, Organic Oat Grass Whole Leaf Powder, Organic Wheatgrass Whole Leaf Powder, Yucca Whole Herb Powder, Aloe Vera Whole Leaf Extract, Cat's Claw Powder, Turmeric Extract.
OTHER INGREDIENTS: Vegetable Cellulose
Suggested Use: Take one to three capsules with each meal and one capsule with each snack.
Usage may vary depending on the individuals digestive health and the amount of processed food included in the meal or snack.
For occasional nighttime indigestion take one capsule with lukewarm water.
100% Vegetarian product.
Product of the USA
Real time shoppers on site
stock running low.