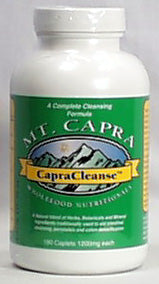 CapraCleanse
Regular price $44.99 Sale
---
Limited Items Selling Fast
poup with stuff in it
close
---
CapraCleanse
Mt. Capra Wholefood Nutritionals Capra Cleanse. A Complete Cleansing Formula. A Natural blend of Herbs, Botanicals and Mineral ingredients traditionally used to aid intestinal cleansing, peristalsis and colon detoxification.
CapraCleanse was formulated using natural herbal, botanical and mineral ingredients traditionally used to aid in intestinal cleansing, peristalsis and colon detoxification. In addition to this traditional wisdom we have incorporated novel ingredients in the form of predigested super foods to aid the body's intake of nutrients as it progresses through the cleansing process.
Supplement Facts
Serving Size: 6 caplets
Servings Per Container: 30
Nutrient Amount
Activated Fiber Blend 3150 mg
Arabinogalactan, Psyllium Husk Powder, Psyllium Seed, Flax Seed Meal, Apple Fiber, Frutafit HD Inulin, Rice Bran.
Colon Cleanse Blend 1890 mg
Turkey Rhubarb Root, Slipper Elm Bark, Marshmallow Root, Fennel Seed, Fenugreek.
Alkalizing Mineral Blend 990 mg
Goat's Milk Whey, Beet Juice Concentrate, Capra Mineral Whey Concentrate (Alkaline based electrolyte minerals Calcium, Magnesium, Phosphorus, Potassium, Sodium. Other Minerals and Trace Elements).
Superfood Blends 660 mg
Green Juice Blend (contains Barley, Wheat, Oat Grass Juice 33:1 concentrates); Certified Organic Alfalfa Powder.
Essential Soothing Botanical Blend 510 mg
Hyssop (Syriaca Majoram), Ginger, Yucca, Rosemary, Turmeric.
OTHER INGREDIENTS: Microcrystalline Cellulose, Magnesium Stearate, Silicone Dioxide and Cellulose (vegetable source).
Suggested Use: Take three caplets upon rising in the morning on an empty stomach and three caplets upon retiring in the evening. For weight management take two caplets with each meal in accordance with a healthy diet. Always take with at least 8 oz's of water or other non-carbonated liquid. Do not give to children under 12 years of age. Do not use if you are pregnant or nursing.
Product of the USA.
Real time shoppers on site
stock running low.