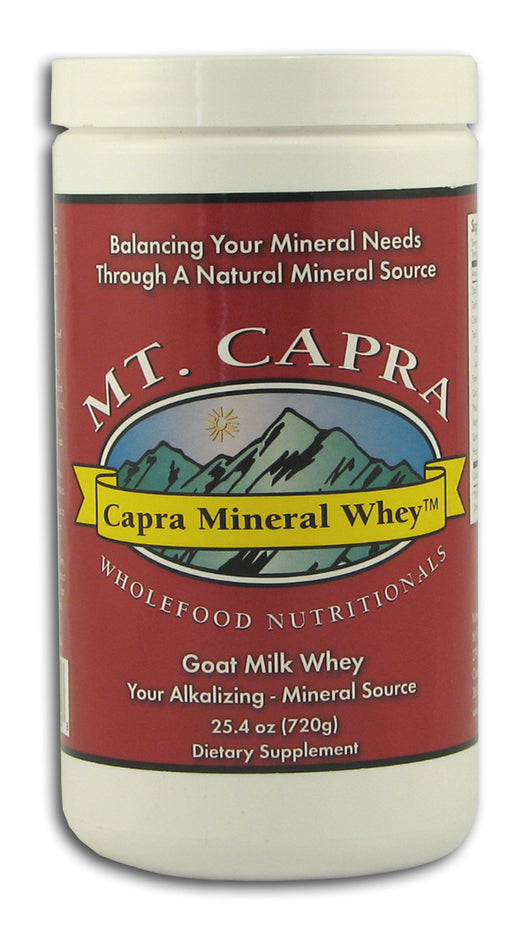 Capra Mineral Whey
Regular price $35.99 Sale
---
Limited Items Selling Fast
poup with stuff in it
close
---
Capra Mineral Whey
Capra Mineral Whey. Goat Milk Whey. Your Alkalizing - Mineral Source. Balancing Your Mineral Needs Through A Natural Mineral Source. Dietary Supplement.
No chemicals or preservatives added.
- Goat-milk whey is tolerated well by most people.
- Capra Mineral Whey is highly concentrated, alkaline and contains minerals and electrolytes. (Potassium, Phosphorus, Sodium, Calcium, Magnesium).
- Mt. Capra Goats are fed foods that are free of pesticides, herbicides and growth hormones and are not treated with antibiotics.
- Capra Mineral Whey is minimally processed to preserve its original composition.
INGREDIENTS: Goat Whey.
OTHER INGREDIENTS: Silicon Dioxide.
Supplement Facts
Serving Size: 2 Tbsp. (26 g)
Servings Per Container: 56 (50.8 oz container); 28 (25.4 oz container)
Nutrient Amount %DV
Total Calories 79
Total Fat 0 g 0%
Cholesterol 0 mg 0%
Total Carbohydrates 18 g 6%
Dietary Fiber 0 g 1%
Sugar 9 g
Protein 1.3 g 3%
Calcium 260 mg 26%
Phosphorus 150 mg 15%
Magnesium 37 mg 9%
Sodium 135 mg 6%
Potassium 1052 mg 30%
Goat Whey 26 g *
*Daily Value not established.
Suggested Directions: 1 Tbsp in a cup of water, juice, etc., twice a day. For advanced usage: 2 Tbsp. three times daily.
Product of the USA.
Real time shoppers on site
stock running low.