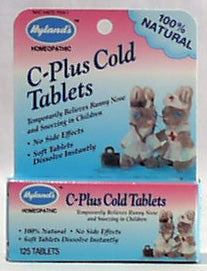 C-Plus Cold Tablets
---
Limited Items Selling Fast
poup with stuff in it
close
---
C-Plus Cold Tablets
Homeopathic C-Plus Cold Tablets. Temporarily Relieves Runny Nose and Sneezing in Children. No side effects. Soft tablets dissolve instantly. 100% Natural. 125 tablets.
When your child starts to sneeze and sniffle, you don't have to feel helpless. Each tablet contains four homeopathic medicines that relieve these uncomfortable symptoms. Especially formulated for ages one through six.
Uses: Temporarily relieves the symptoms of runny nose and sneezing due to common head colds in children.
ACTIVE INGREDIENTS: Eupatorium Perfoliatum 3X, Euphrasia Officinalis 2X, Gelsemium Sempervirens 3X, Kali lodatum 3X.
INACTIVE INGREDIENT: Lactose N.F.
Drug Facts
Active Ingredients Purpose
Eupatorium Perfoliatum 3X HPUS headache, cough, sneezing
Euphrasia Officinalis 2X HPUS runny eyes & nose
Gelsemium Sempervirens 3X HPUS sneezing with stuffy nose
Kali lodatum 3X HPUS headache, runny eyes & nose
Directions: Children 1 to 3 years: Dissolve 2 tablets on tongue every 15 minutes for 4 doses, then hourly until relieved. Children 3 to 6 years: 3 tablets as above. Children 6 years & older: 6 tablets as above.
Hyland's C-Plus Cold Tablets are very soft and will dissolve almost instantly in the mouth.
Warnings: Ask a doctor before use if pregnant or nursing. Consult a physician if symptoms persist for more than 7 days or worsen OR if symptoms are accompanied by a high fever (over 101 degrees F).
Keep this an all medications out of the reach of children. Do not use if imprinted tamper band is broken or missing.
In case of accidental overdose, contact a poison control center immediately.
In case of emergency, the manufacturer may be contacted 24 hours a day, 7 days a week at 800-624-9659.
Real time shoppers on site
stock running low.